Introducing Better Performance Measurement Into Local Government
by Stacey Barr |
Trevor shares his personal journey of researching, learning and implementing better performance measurement practice into his local government organisation.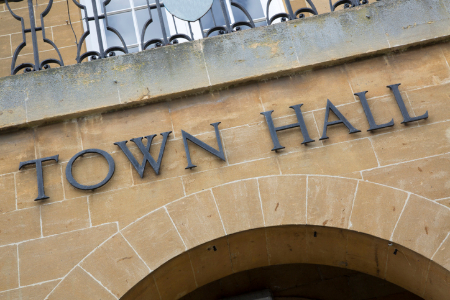 There is certainly more than one way to introduce better performance measurement practice into an organisation. But it's hard to find real-life examples of how real people have gone about it. But this story from Trevor, assistant to the town administrator in a US-based local government, is one such example.
Trevor sent his story to me as a testimonial, but it was so rich in detail about his approach and learning, that I thought you'd find it useful too. I've added headlines for structure, and links and tips for a deeper dive into what Trevor shares. We both hope you take inspiration from it, and go forge your own way ahead, toward better performance measurement in your organisation.
He didn't know where to start with measuring local government performance.
When my Town Administrator asked me to start helping our department managers develop goals and performance measures for our upcoming new fiscal year, I had a vague idea of what it would look like as a finished product, but I had less of an idea about where to start and actually do the work. And while I had experience in setting goals, I had very little in strategic planning and none in developing performance measures.
I had worked in organizations with key performance indicators before, but I was never involved with developing, implementing, or analyzing them.
It's a common question, how to get started with performance measurement. It's not taught well in any management training. If you're stuck with how to get started, start with this guide.
He already knew that measurement is easier when there's a clear purpose and clear results.
The best experience I had ever had with performance measures and tracking performance was while I volunteered as a missionary for my church. There was a clear purpose with key results, and a small number of key performance indicators that represented the most important activities. Everything was very neat and tidy, and everyone knew what results we were after and what activities influenced performance the most. But again, that was handed down from church headquarters. Inspired people put that system together, and I merely worked within it.
We don't measure performance for measurement's sake. We measure because there are specific results we want to achieve. Before you start looking for KPIs, metrics or performance measures, you first need to have a clear set of results that matter to achieve.
He came to realise that many so-called measurement tools are not measurement tools at all.
In school I had learned about logic modelling, causality, and was well aware of the difference between measuring outputs vs. outcomes.
My city had adopted a two-page strategic plan that included a vision statement, a mission, statement, and seven critical success factors. In past years, each department established a list of goals and performance measures. Each goal was really a project, and what measures we did have were mostly activity-based measures. There was no measurement beyond very basic status reports on projects. The bones of the strategy itself were good, but there were still many issues that would need to be addressed.
I knew I needed to find a process for how to develop this system for my town's government. I searched online for a while and found lots of information about processes methodologies that ranged from six, to twelve steps. It all sounded great, but there was no substance. There were no instructions about how to use each step or what was involved. Nothing I found was detailed enough to start from absolute ground zero and help me get to where I needed.
Many people mistake results frameworks for measurement frameworks, but they're not the same thing. Or they are only aware of trivial (overly simple) frameworks that lack the how-to detail, like SMART and OKRs. It's important to realise that measurement is a specific process unto itself.
He gave the time to learn proper performance measurement.
And then I stumbled upon the PuMP Blueprint and Practical Performance Measurement. A whole world was opened up to me and it was amazing. I read Practical Performance Measurement and took advantage of years of Measure Up articles, blog posts, and the PuMP Blueprint templates. I read everything I could and after a couple of weeks of intense study, I had a pretty concrete idea of what to do.
As I read Practical Performance Measurement, my questions were answered. There were even questions I didn't even know I should have that were answered. The nagging feelings of fear and doubt slowly dissipated as I gained an understanding of the principles of performance measurement. The things I read felt familiar, and though I had never before read them, I knew they were true. Stacey's approach to performance measurement was perfectly tailored to my needs, and it just felt right. It was a truly inspirational process to work through Practical Performance Measurement. I felt like it was written for me, specifically tailored to my needs and questions.
The reason that Trevor felt my book was written for him (as other readers have also shared with me) is because it was. Every step of every technique in PuMP was designed to solve each of the most common struggles people have with performance measurement. It's based on tens of thousands of people sharing their struggles with me.
He now knows the specific measurement techniques most worth starting with.
Trevor succinctly describes some of the most important techniques for measuring performance:
Having found PuMP, I can't imagine using any other framework for developing and interpreting a strategic plan, thinking through the results we want to achieve, the evidence that would convince us our result is occurring, and the types of activities and initiatives that would influence our results in the way we want. I would not know how to set an appropriate target, or track performance over time with an eye for signals.
Stacey didn't just write a book or create a website for her business; she codified truth. She created something so simple and so beautiful that in a point in my career where I needed help, I found exactly what I was looking for, and a few things I didn't even know I should be looking for.
Without PuMP I would have come up with something; but with PuMP, I was able to come up with something meaningful, powerful, and measurable.
To succeed sooner, he started small. Kind of.
With the help of the PuMP methodology, I was able to simultaneously run seven PuMP pilot programs with each of the city's departments. Of course, there is much work left to be done, and a lot of change needs to be managed, but at least the path forward is clear and PuMP has provided us a foundation upon which I can help build a performance culture in my town's government.
Trevor started with seven PuMP Pilots, but he did admit to me later that, in hindsight, seven was probably too many to kick off with at once. But if you have leadership support and the time to devote, it is possible. Just like it was possible for Sarah, who managed nine PuMP Pilots in a medium-sized tech business. That said, we always recommend starting with just one performance measurement pilot with PuMP, or any true measurement methodology.
He succeeded because he committed.
The important thing is, Trevor has devoted himself to mastering proper performance measurement, and he's doing his utmost to share it with colleagues, and make it work for his organisation. There are few role models more practical and inspiring than Trevor in his journey as an authentic performance measurement expert.
"Without PuMP I would have come up with something; but with PuMP, I was able to come up with something meaningful, powerful, and measurable." – Trevor
[tweet this]
Connect with Stacey
Haven't found what you're looking for? Want more information? Fill out the form below and I'll get in touch with you as soon as possible.
*We respect your email privacy.
---

Suite 117 Level 14,
167 Eagle Street,
Brisbane Qld 4000,
Australia

Stacey Barr Pty Ltd
ACN: 129953635
Director: Stacey Barr