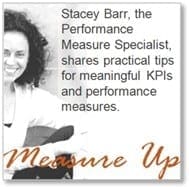 IN THIS EPISODE: Article: 7 KPI New Year's Resolutions Q&A: How do you convince busy managers that they should spend time developing the right measures? Quick Tip: Start with a Pilot Project to build momentum and engagement.
---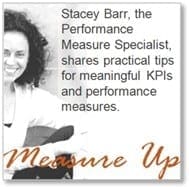 IN THIS EPISODE: Article: 5 KPIs for Christmas? Q&A: How to handle KPI's that you believe are great but you're not sure you'll be able to measure efficiently. Quick Tip: What to do BEFORE you decide something isn't cost-effective to measure.
---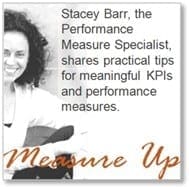 ---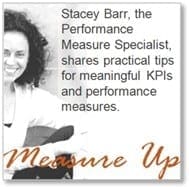 IN THIS EPISODE: Article: 3 Things You Need On Every KPI Graph. Q&A: How to get Executives understanding different methods of reporting performance results. Quick Tip: How to choose the right graph type for your KPI or performance information.
---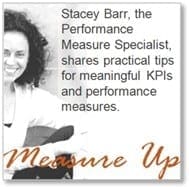 IN THIS EPISODE: Article: 5 Steps to Simple and Actionable Customer Surveys Q&A: How to measure customer satisfaction WITHOUT using surveys Quick Tip: 4 questions to include on the most concise customer survey questionnaire you'll probably ever see.
---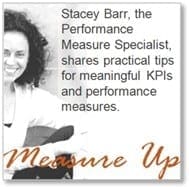 IN THIS EPISODE: Introduction: The motivation and purpose of this Measure Up podcast. Article: Do Universally Perfect KPIs Exist? Q&A: How to use KPI's for performance improvement not traditional training KPI's Quick Tip: Where KPIs or performance measures fit into your strategic or operational plans.
---
Connect with Stacey
Haven't found what you're looking for? Want more information? Fill out the form below and I'll get in touch with you as soon as possible.

Level 54, 111 Eagle Street
Brisbane, Qld, 4000
Australia

Stacey Barr Pty Ltd
ACN: 129953635
Director: Stacey Barr