Create a "straw man" KPI implementation
by Stacey Barr |
The definition of KPI insanity is this:
Doing the same thing over and over again and expecting better performance measures!!
If you want better measures or KPIs you MUST take a different approach to the one you've been using so far.
A great way to experiment with a different (and better) approach, is to create a "straw man" application of that approach. This just means that you focus on one goal to measure, and test out an entire approach as a simulation of measuring that goal.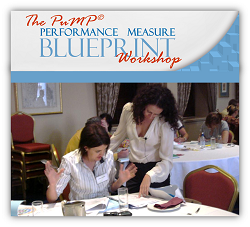 This is what we do at the PuMP Blueprint Workshop: I teach you the step-by-step performance measure blueprint, and at each step you use the PuMP template I give you to design and bring to life your new KPI or performance measure.
So bring along a hard-to-measure goal or objective to our next PuMP Blueprint Workshop, which is in Brisbane on June 19 & 20, and leave the workshop with a brand-spanking new and improved KPI, as well as the blueprint to measure anything more easily and quickly and meaningfully!
Connect with Stacey
Haven't found what you're looking for? Want more information? Fill out the form below and I'll get in touch with you as soon as possible.
*We respect your email privacy.
---

Suite 117 Level 14,
167 Eagle Street,
Brisbane Qld 4000,
Australia

Stacey Barr Pty Ltd
ACN: 129953635
Director: Stacey Barr