How Do You Embed Measurement, Minus The Red Tape?
by Stacey Barr |
Measure Up subscriber Ben is a performance professional in a large private sector company, with this question: "How do we embed measurement in an organisation without creating red tape?"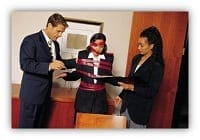 It's so true, isn't it? Larger organisations are at high risk of wrapping everyone up in enough red tape to strangle the original intent out of a good idea.
Measurement is a good idea. And you want to keep the red tape as far away from it as you can! Here is my top suggestion for keepin' it real: start with a performance culture, not a performance framework.
It's absolutely critical that when you do measurement, you do it well (without the bad habits that too easily become common practice). But you can lay a foundation of sensible measurement practice without having to build a complex framework of policies, procedures, software and scorecards.
Simply begin with dialogue. Get people talking about what good measurement means. The PuMP Diagnostic Discussion Tool is a free tool you can use to get people exploring good measurement, under the guise of a measurement maturity self-assessment.
As people become aware of the difference between good and bad measurement practice, they will naturally begin adopting better measurement practice, almost without trying. It doesn't have to be perfect – just a move in the right direction. It builds a momentum you can later use when it becomes framework time.
Only then, after people share a reasonably consistent understanding of what good measurement is all about, should you begin building your framework. And the first step of that framework, I suggest, is a practical and deliberate methodology specifically for performance measurement (yes, like PuMP).
TAKE ACTION:
What do you reckon are some simple ways to lay the foundation of a performance culture, without the red tape? Share your suggestions on the blog.
Connect with Stacey
Haven't found what you're looking for? Want more information? Fill out the form below and I'll get in touch with you as soon as possible.
*We respect your email privacy.
---

Suite 117 Level 14,
167 Eagle Street,
Brisbane Qld 4000,
Australia

Stacey Barr Pty Ltd
ACN: 129953635
Director: Stacey Barr