It's Not About The Measures
by Stacey Barr |
Having performance measures or KPIs is not an end in itself. If we're not constantly returning to the reason why we measure, we risk losing the motivation and momentum that's really needed to implement great measures.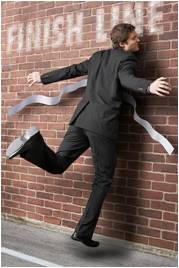 Without a compelling reason, people start feeling that measuring performance is about jumping through bureaucratic hoops and it feels like drudgery rather than inspiration.
They just try to get it over with. And if they do get it done, and don't quit along the way, the measures they produce have a lingering smell of too much hard work. And they're not used and performance doesn't get any better.
We always have to be clear that the reason we measure is to reach our goals sooner and with less effort. It's not about the measures, it's about amplifying our impact through them.
Making it about something other than the measures is a not-negotiable if you want to lead performance measurement implementations that succeed.
There are a few outcomes of good measurement, that can start your Measures Team talking about their reason for performance measurement.
A greater focus on what matters.
When we measure a result well, that measure is direct evidence of the degree to which that result is happening. And that measure will sharpen the team's appreciation of and focus on the results that matter most in their domain of performance.
Getting more strongly in touch with reality.
Good performance measures show us what we can't see by looking around with our own eyes. They help us see across time and space in a snapshot image. They are based on objective data, and give us an unbiased understanding of the degree to which our result is happening. Far superior to gut feel, hearsay and conjecture, good performance measures use the scientific method to help us get a more accurate understanding of what's really happening.
Reaching goals sooner, and with less effort.
It means that when we set targets, we reach them in less time than it used to take us to reach our targets. And when we reach those targets, we get a higher return on our investment of effort and resources that we used to get from reaching our targets. These two are the ultimate outcomes of good performance measurement. They are the ultimate reasons why we do it. And that's what high performance is about.
We can help our Measures Teams to set their vision of good performance measurement by fleshing out these outcomes, in the context of the team's domain of performance.
DISCUSSION:
What domains of performance do you need better measures for? What are the reasons for measurement that would compel others to stay committed to implementing great measures for that domain of performance?
Connect with Stacey
Haven't found what you're looking for? Want more information? Fill out the form below and I'll get in touch with you as soon as possible.
*We respect your email privacy.
---

Suite 117 Level 14,
167 Eagle Street,
Brisbane Qld 4000,
Australia

Stacey Barr Pty Ltd
ACN: 129953635
Director: Stacey Barr