QUESTION: How do you find the critical success factors to measure?
by Stacey Barr |
Fiona W. asks: "How can I help colleagues dig deep and uncover our underlying critical success factors and then establish meaningful KPI's for these?"
This question is a wise one, because many people still don't realise that it is essential for planning to come before measuring. We don't measure for measurement's sake. We measure to get objective feedback about whether the results we want are moving in the right direction.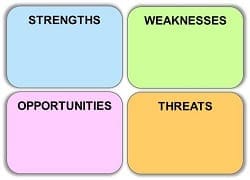 Most planning processes start with some kind of business scanning.A SWOT analysis is a popular and simple way to do this. It guides you to explore your internal strengths and weaknesses, and to explore the external opportunities and threats that all impact on fulfilling your mission and pursuing your vision.
When I the Balanced Scorecard Institute's Professional Certification course, it taught me the importance of actually analysing the SWOT, not just compiling the SWOT. By looking at the collection of strengths, weaknesses, opportunities and threats as a whole, you can sift out three or four strong themes that become your strategic focus.
Some will call these themes Critical Success Factors (CSFs), Key Result Areas (KRAs) or Strategic Priorities, but in Balanced Scorecard parlance, they're called Strategic Themes. I don't reckon the label matters as much as their ability to focus you on what truly drives your mission and vision right now.
Within each of your Strategic Themes or CSFs, you can then define several specific performance results that make those themes tangible. When you articulate your performance results in language an 8-year old would understand, they will be measurable. This means it will be far easier to select one or two performance measures for each performance result, measures that will be objective evidence to monitor your progress in achieving each of your results.
When you combine a performance result with its performance measure and a target and a timeframe, what you have is a true goal. Only after you have these true goals does it make any sense to start talking about the initiatives or projects that have the greatest leverage to achieve those goals.
TAKE ACTION:
Involve the team in a SWOT analysis. Allow 1 or 2 hours to collate strengths, weaknesses, opportunities and threats. Then allow another hour to identify 3 or 4 Strategic Themes (or Critical Success Factors). The PuMP Performance Measure Blueprint can then give you the steps to define the performance results and the best performance measures for them.
Connect with Stacey
Haven't found what you're looking for? Want more information? Fill out the form below and I'll get in touch with you as soon as possible.
*We respect your email privacy.
---

Suite 117 Level 14,
167 Eagle Street,
Brisbane Qld 4000,
Australia

Stacey Barr Pty Ltd
ACN: 129953635
Director: Stacey Barr