Should We Have 0 and 100% Targets?
by Stacey Barr |
It's so very hard to set a target for our monthly workplace injuries measure of 5. It feels like we're aiming to injure 5 employees! That's not ethical, is it? It only feels right to set the target as 0. But then we feel like we're setting ourselves up to fail. The tension is awkward. What to do?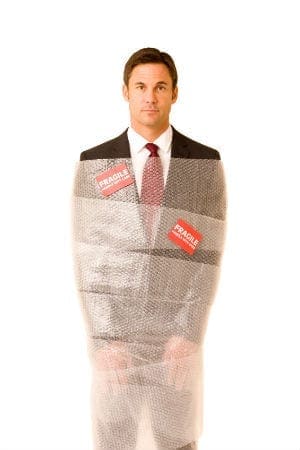 My friend Mike Davidge, Director and measurement expert at NHS Elect, sent me an email on the topic of targets like these, where we're aiming for perfect performance:
zero deaths
zero defects
zero waste
100% compliance
Mike wanted to explore where we differ on this, and it turned out we didn't really. We both agree with aspiring for perfect performance, particularly in very sensitive areas like people's health and safety. And we both agree that having only perfect-performance targets is dangerous and demotivating.
With perfect-performance targets, anything less than perfection is failure, and this can drive the wrong behaviours to make the measure show success:
changing the way a workplace injury is classified, to put more blame on individuals
discouraging employees from reporting workplace injuries
"losing" data about workplace injuries
Targets should inspire and motivate improvement, so setting a target to reduce workplace injuries from their current 10 per month to 5 per month is still a good thing. But it feels weird, like we're aiming to hurt 5 people per month.
How can we handle this tension between improvement targets and perfect-performance targets?
The CEO of a hospital system in the US gives us a very practical solution:
"To me, this goal of zero is very motivating because it reminds all of us of what we would want for ourselves, our families and friends. Yes, it is very daunting and we will not get there as quickly as we might like. In fact, for some of our work we might never get to zero. But by choosing the right goal we will work like heck to improve our performance year over year and achieve progress that we otherwise might never dream of. So to be clear and unambiguous, the goal is zero defects and the target is improvement."
The goal might be "We have a zero-harm workplace". And the measure might be Workplace Injuries which has a target of 5 in the first year, and a target of 2 for the year after, and so on, never losing our aspiration for 0.
So we would make the perfect-performance aspiration clear in the goal, and set a trajectory of improvement targets for the measure. We can then celebrate our progress toward perfect performance, rather than beat ourselves up for anything less than perfect performance.
DISCUSSION:
What kinds of perfect-performance, or 0 or 100%, targets has your organisation got? Have you achieved any of them? How do people feel about having them?
Connect with Stacey
Haven't found what you're looking for? Want more information? Fill out the form below and I'll get in touch with you as soon as possible.
*We respect your email privacy.
---

Suite 117 Level 14,
167 Eagle Street,
Brisbane Qld 4000,
Australia

Stacey Barr Pty Ltd
ACN: 129953635
Director: Stacey Barr