The Vagueness of Vibe: Is Culture Really Too Intangible to Measure?
May 26, 2015 by Stacey Barr
Culture is a word we use to describe the interplay of values, beliefs, attitudes and behaviours within a group of people. In organisations, workplace culture is one of the hardest things to measure. But we want to measure it, because we want to influence it.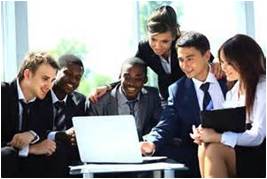 You get the vibe of a culture when you walk around a workplace. That vibe is an inner sense you develop from the sensory data you collect – both within and outside of your awareness – as you observe that workplace.
You can't measure what you can't observe or detect in the physical world. Culture seems so intangible, and yet we all know we can observe or detect attributes of a culture in the physical world. If we couldn't observe or detect it, how else could we know that a culture needs to change?
Culture can be gauged by observable or detectable manifestations in the workplace.
The manifestations of the strong safety culture in a mining corporation are:
visitor safety briefing
matter-of-fact staff guidance on safe practice, like holding the hand rail when taking the stairs
starting meetings with an unprompted safety observation or message
signs and posters that demonstrate safe work habits
The manifestations of a disempowered culture in a government department are:
slouching at desks
hearing "yeah, but…" as the response to any suggestion of improvement
volumes of reports and briefing documents before an idea can be tabled
absence of spontaneous dialogue between people at different ranks
Describe the manifestations of culture before you try to design measures of it.
Essentially, culture becomes measurable when you can describe the specific manifestations of that culture. The measures are really just quantifications of the degree or amount of those manifestations that happen.
You can describe the manifestations of culture because:
You can see body language like eye contact, posture, speed of movement, amount of movement, type of movement.
You can hear what people are saying, how they're saying it, who they're saying it to, and where they're saying it.
You can touch and feel artefacts like posters, documents, office partitions, furniture and space.
The attributes of culture are observable and detectable. And that makes culture measurable.
Will the measures be a perfect encapsulation of the culture?
Of course not! No measure is a perfect encapsulation of the thing it monitors. But we don't need perfect information to make better decisions. We can measure the attributes of culture we want to change, and still learn enough to guide the changes we should make.
The real challenge is figuring out how to do the observing and detecting of those attributes of culture in an objective way. Good performance measures need objective data (not perfect data, though). And that's a topic for another post.
DISCUSSION:
What are the manifestations of the culture in your organisaton? What adjectives would you give to describe the culture those manifestations suggest?








Connect with Stacey
Haven't found what you're looking for? Want more information? Fill out the form below and I'll get in touch with you as soon as possible.
*We respect your email privacy.
---

Level 54, 111 Eagle Street
Brisbane, Qld, 4000
Australia

Stacey Barr Pty Ltd
ACN: 129953635
Director: Stacey Barr