PuMP Blueprint Online Welcome

Welcome to the PuMP Blueprint Online Program
HOW TO GET STARTED
You're successfully registered in the online program to learn the practical PuMP® Blueprint – at your own pace, in your own place. Thanks for joining!
The PuMP® Performance Measure Blueprint Online Program (we often just refer to it as the PMBO) is going to give you all the practical and engaging learning as the live workshop, but with the fantastic convenience of learning in your own home or office, and in small bite-sized steps so it's easier for you to implement as you learn!
Expect to have fun, to learn heaps, and to make a huge difference in your company or organisation along the way.
Performance measurement is at the heart of high performance, and you're one of the performance leaders the world so very much needs. Can you imagine how different our world would be if all our organisations measured the right things, and let those measures guide their decisions and actions?
Did you get your confirmation email?
If you registered online, check your email inbox now for your receipt for payment – if you have any trouble finding it (check your spam folders too), then contact us at info@staceybarr.com and we will reissue it to you. If you are based in Australia, note that this email contains all the information required to be your tax invoice.
If you registered offline, you will receive your receipt for payment after your payment has been received and processed. If you have any questions, contact us at info@staceybarr.com.
Now, below you'll find some handy information about the PuMP Blueprint Online Program, so you may like to print this page for reference.
How to get started
You should already have received an email with the subject line: "[PMBO] NAME, how to get started in the program now…"
This email contains instructions for how to set up your membership on the Performance Measure Blueprint Program website right now, and then you can log in and start familiarising yourself with the site.
Check your email inbox, and if you can't find that email, and it doesn't arrive within 10 minutes, please tell us so we can help you.
What to have on hand while you learn
The Performance Measure Blueprint is very practical and interactive, so you will get more value from it if you have on hand a few things to refer to and to work on:
Your organisation's or team's strategic or operational or business plan (or whatever you call it) – where you have written your goals, objectives and targets for the coming year(s).
Your existing performance measures or KPIs – either a list of them, their definitions, or graphs or tables of their current and historic results.
Your current performance report – the document you use to report progress against your goals, objectives and initiatives.
How to set up your PMBO website membership now
Here's the link to set up your personal membership on the PMBO program website, where all the lesson replays, downloads and Q&A are organised:
//performancemeasureblueprintonline.com/?/register/QXbsv3
After you've logged in at //performancemeasureblueprintonline.com, go to the "How to Start" page and follow the instructions there.
If you have questions
Debbie Brown is our Program Manager, and she does an amazing job at taking care of our customers. If you have any questions about the program or the program website, just contact her at: info@staceybarr.com
I'm looking forward to helping you!
Can't wait to share with you the simple, powerful steps to finally creating the most meaningful performance measures to achieve your goals this year (and beyond)!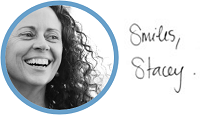 Stacey Barr
the Performance Measure Specialist
Connect with Stacey
Haven't found what you're looking for? Want more information? Fill out the form below and I'll get in touch with you as soon as possible.
*We respect your email privacy.
---

Suite 117 Level 14,
167 Eagle Street,
Brisbane Qld 4000,
Australia

Stacey Barr Pty Ltd
ACN: 129953635
Director: Stacey Barr
Free KPI Tips In Your Inbox
Sign up for our Measure Up email tips and immediately get free access to the "10 Secrets to KPI Success" online course!
We respect your email privacy.