Getting Ready for your PuMP Coaching Calls with Stacey Barr
5 Tips for Getting Ready for your PuMP Coaching Calls!
Thanks for booking some time for PuMP coaching with me!
Whether you have booked the block of 6 x 45-minute calls, or the single 45-minute call, here are some suggestions for how to make the most of your time:
1. Think about the best timing to support you in your PuMP implementation. For example, you could schedule your calls to precede or follow each step of the PuMP Blueprint as you implement it.

2. Have a specific purpose in mind for each call. Know what result you want at the end of the call, either the answer to a question or some specific steps to take, for example. And let me know what this is at the start of the call, or even better, email me a few hours prior so I can prepare.

3. Decide before each call if you want indepth discussion or rapid-fire Q&A. You may want to deal with one or two very specific topics in depth, or you prefer to cover lots of questions but not indepth.

4. Email any relevant reading to me at least 4 hours prior to each call. This could be your Results Map or Measure Designs, for example.

5. Be prepared to take lots of notes. It's up to you to document the tips, links, resources and instructions we may discuss during the call.
If we haven't already, a member of my team will be in touch within the next 2 business days to set up the times and dates for your calls (or single call).
But if you have any questions, just send us an email here.
Looking forward to getting started.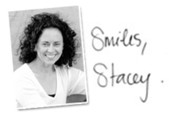 Stacey Barr
the Performance Measure Specialist
Connect with Stacey
Haven't found what you're looking for? Want more information? Fill out the form below and I'll get in touch with you as soon as possible.

Level 54, 111 Eagle Street
Brisbane, Qld, 4000
Australia

Stacey Barr Pty Ltd
ACN: 129953635
Director: Stacey Barr
Free KPI Tips In Your Inbox
Sign up for our Measure Up email tips and immediately get free access to the "10 Secrets to KPI Success" online course!
We respect your email privacy.