PuMP Online Immersion 2021
We made it better than a workshop…
This program is a true immersion; it's not just training. It's live interaction, facilitated demonstrations, lots of Q&A time, implementing along the way, getting personal feedback, and connecting with each other. So, even though it's online, the PuMP Online Immersion is better than a live workshop:
We'll help you create a sense of community, with program participants and with your colleagues, as you learn and implement PuMP.
You'll keep productive and engaged during this quieter work period, finally finding the time to do the important measurement work that has always taken a back seat to the never-ending urgent to-do list.
Your learning will be deeper, and will stay with you more easily, so you can add a profoundly important new skill to boost your career.
Workshop participants often say, "I'll have to wait and see how this works back at work". But this program allows you test and tweak along the way, and course-correct as we guide you.
Will you join us?
What is PuMP?
There are universally common struggles that are evidence of the wrong kind of measurement: immeasurable goals, irrelevant measures, no buy-in, and useless dashboards and reports.
These struggles are due to bad KPI habits that have become common practice: writing goals with "weasel words", brainstorming KPIs, using measures to judge people, and rushing to build dashboards that end up being useless.
PuMP is a performance measurement methodology that was designed to deliberately replace those bad KPI habits with practices that work.
PuMP is the end of your KPI struggles.
Why PuMP works
We need a strong performance culture to bounce back after crisis. PuMP is the way to create your performance culture:
It starts by replacing fear of judgement with a passion for learning how to lift performance.
Then, we set clearer goals, measure them meaningfully, at all levels of the organisation.
Now, we have useful information for evidence-based decisions that improve performance.
This becomes a natural part of how we work, we reach stretch targets, and we lead our industry.
We become a high-performance organisation, because what we aim for, we achieve.
How Online Immersion works
PuMP is a practical, logical and engaging 8-step process to choose, create and use measures to drive high-ROI improvement.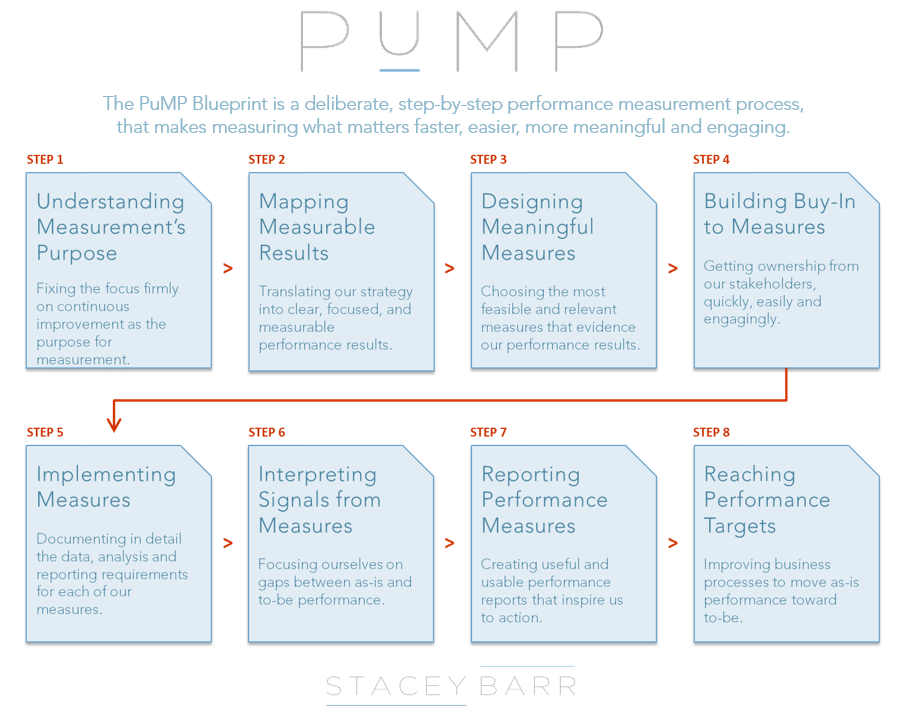 The PuMP Online Immersion is an interactive 12-week program, delivered entirely online, with a focus on learning and implementation. It is the most practical program we've ever offered.
The PuMP Online Immersion program guides you through your first real implementation of PuMP with 100% virtual resources and interaction:
Learn online, via live and interactive webcasts
Download all the support resources you need
Follow along with our live demonstrations
Implement with your team, as you learn
Receive feedback on your implementation
Learn from all program participants' implementation and feedback
Collaborate with other program participants
And after our final lesson, we'll still support you as you continue to implement PuMP into the future:
Free membership in our online PuMP Community, to access lots more resources.
All lessons are recorded and replays available for 3 months following our final lesson.
Keep the comprehensive Q&A report we'll create for you throughout the program.
Keep the set of live demonstrations we'll facilitate with program participants in using each of the PuMP templates.
BONUS: Free lifetime membership in our self-paced PuMP Online program, to maintain your know-how after the Immersion closes.
Become PuMP Certified
PuMP is certified by APMG, the world's leading accreditation and exam institute for professional certifications. You can read more at the APMG PuMP Certification information page.
After completing this live online program, you can choose to take the PuMP Certification exam, and a certificate and digital badge is provided on your successful achievement of a 75% score.
Taking the exam is a quick, easy and fun way to review what you learned throughout the program and increase the likelihood you'll continue to apply PuMP successfully in the future.
OUR presenters are KPI experts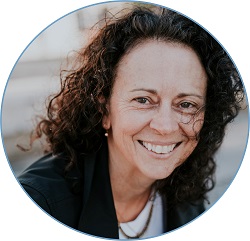 Stacey Barr, the Performance Measure Specialist, is the creator of PuMP.
She has specialised in organisational performance measurement since 1993. Stacey is known for her practicality, approachable presentation style (even online!), and innate ability to balance the technical and social sides of performance measurement.
PuMP creator, Stacey, comes out of 'teaching retirement' to co-deliver this program!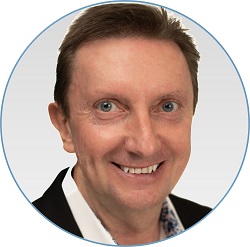 Mark Hocknell, Licensed PuMP Partner Asia-Pacific, and is your program co-host and coach.
Mark has been applying, facilitating and teaching PuMP since 2007. He specializes in performance measurement and customer centric business. Mark has an open and collaborative style and is known for his ability to encourage and inspire people to see things in new (but realistic) ways.
"I cannot speak highly enough of Stacey and her Performance Measure Blueprint. There is a lack of good quality performance measurement training in Australia and I highly recommend Stacey's training as the best in the business." — Melinda Varley, Director Business Performance Management, Australian Public Service
The program schedule
This program has been designed specifically for our customers in the Asia-Pacific region. The schedule spans over 3 months, to allow for implementation and coaching between lessons. All content is recorded and replays and downloads will be available for an additional 3 months.
We will publish the full schedule, with dates, for our 2021 PuMP Online Immersion, in late 2020.
How to register…
There will be two types of registration for our PuMP Online Immersion program in 2021:
Individual registration, where you alone have access to the program lessons, resources and coaching, but you use the experience to guide you as you facilitate the implementation of PuMP with your own Measures Team.
Team registration, where you and up to 6 of your colleagues join the program as a Measures Team, to implement PuMP together. Your team members each have personal access to the lessons and resources, but only you have access to the coaching as the representative for your team.
The prices for our PuMP Online Immersion for 2021 will be:
Individual registration: $5,000AUD plus GST
Team registration: $15,000AUD plus GST
At this stage, we are simply taking expressions of interest in a 2021 PuMP Online Immersion program, from anyone residing and working in the Australian and Asia Pacific regions. If you're interested, please email us at info@staceybarr.com.
Connect with Stacey
Haven't found what you're looking for? Want more information? Fill out the form below and I'll get in touch with you as soon as possible.

Level 54, 111 Eagle Street
Brisbane, Qld, 4000
Australia

Stacey Barr Pty Ltd
ACN: 129953635
Director: Stacey Barr
Free KPI Tips In Your Inbox
Sign up for our Measure Up email tips and immediately get free access to the "10 Secrets to KPI Success" online course!
We respect your email privacy.