PuMP Quick Win Coaching Program

Create a truly successful performance measure
implementation, and quickly build buy-in for KPIs!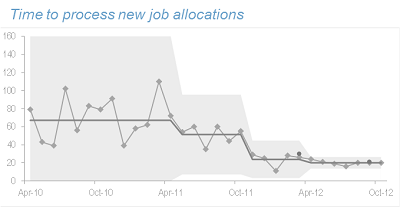 Here's just one real-life example of a PuMP Quick Win: Steve and his team from the Federal Aviation Administration in the US used PuMP to reengineer how they placed officers who failed the Flight Controller exam into new jobs.
They reduced the time it took to place these officers in new jobs from an average of 67 days down to an average 21 days, in 7 months.
They saved $500,000 by applying PuMP to this single performance result. And they only invested $12,000 in staff time and training to achieve this performance improvement.
You can see, can't you, how much VALUE that small investment truly created? And knowing that you have at least one area of performance that can improve, how much value would you get from deliberately and properly measuring and improving just one performance result in your organisation or company?
Which area of performance would YOU choose to improve first?
What is your best conservative estimate of the benefit of improving it?
Make this potential performance improvement a REALITY, by using PuMP to measure and improve it. It won't happen by hoping, it won't happen when 'they' do something about it, and it won't happen 'later'. It will only happen when you take responsibility for it, and follow the necessary steps to define it, measure it, monitor it and improve it.
How much leverage would you get from just ONE measurable performance improvement?
Imagine that performance result you thought about above, that you know needs improvement.
Imagine you've found a really meaningful way to measure it, and you've tracked that measure over time, discovered insights about how to improve the performance result, and made some changes.
Imagine that the graph of your performance measure showed that performance improved after you made those changes: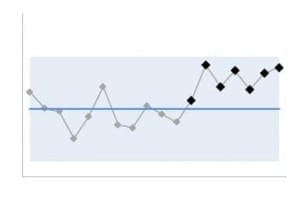 What leverage would this give you in:
engaging your leadership team

in the power of performance measurement as a strategic management tool?

convincing a team that their goals really are measurable

even though they might seem too intangible or 'unique' to measure?

helping a manager negotiate for resources

for her department by providing objective evidence of the need and the bottomline impact?

empowering your colleagues to discover more work pride

and a bigger reason to turn up each day?

enjoying the satisfaction of making a difference

that you can prove objectively and celebrate legitimately?

boosting your own career

prospects, both where you are now and where you want to be in the future?
Get your own real, honest KPI Quick Win, to measure and monitor and improve something that really does matter, and you can enjoy these kinds of leverage. And that is what the PuMP Quick Win Coaching Program is all about!
How will you experience the PuMP Quick Win Coaching Program?
There are deliberate steps to creating great measures and using them to fundamentally improve performance. And those steps are the backbone of the PuMP Blueprint: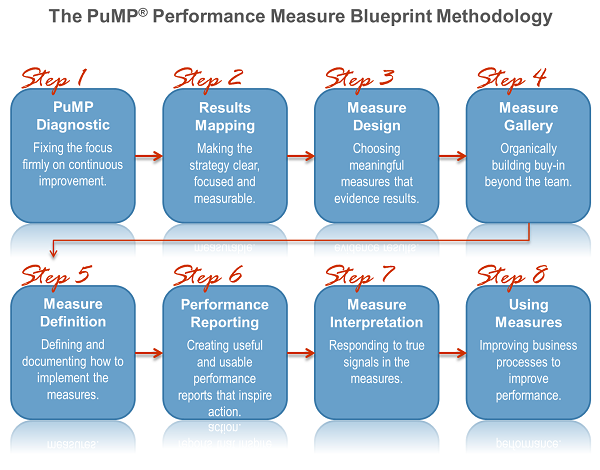 For our PuMP Quick Win Coaching Program, here's how we're going to focus each of these PuMP Blueprint Steps:
STEP 1 – PuMP Diagnostic: challenge old out-dated beliefs about performance measurement and excite your colleagues about a more practical and meaningful way to measure a performance result that matters to themSTEP 2 – Results Mapping: make your chosen performance result measurable, and easier to communicate and understand consistently

STEP 3 – Measure Design: select and design one or two performance measures for your chosen performance result, measures that are far more meaningful than brainstorming or benchmarking ever can produce

STEP 4 – Measure Gallery: get buy-in from other staff and stakeholders to enthusiastically support the measurement and improvement of your chosen performance result

STEP 5 – Measure Definition: bring your measures to life in a practical way, finding the most feasible data that has enough integrity to give you confidence in your measures' trend information

STEP 6 – Performance Reporting: design an insightful and actionable report that will focus discussion on improving your performance result

STEP 7 – Measure Interpretation: clearly see the real signals from your measures about where your performance baseline really is, and how performance is shifting over time

STEP 8 – Using Measures: convincingly hit your performance targets by improving the business processes that produce your chosen performance result, without any blame or covering your bum!
The PuMP Quick Win Coaching Program is about you successfully applying each one of these steps, over an 8-week period, to create a single powerful success story of measuring and improving a performance result that matters.
We'll have an introductory online meeting first of all, and I'll give you some tips for how to choose a really good performance result for the program. You'll also 'meet' your fellow program participants and get warmed up to kick off your Quick Win!
Then, each week in our 8-week program will focus on one specific step in the PuMP Blueprint, and will go something like this:
On Monday I will email you tips to get started in applying that one specific step in the PuMP Blueprint. You will work through the PuMP template for that step, applying it to your situation. Then you'll email me what you've done.
Then, mid-week we will get together in an online meeting, focused on that one specific step in the PuMP Blueprint. We will review your PuMP template for that step, refining and building on what could be improved, and reinforcing what you've done well.
You'll wrap up the week by boosting your implementation, by reflecting on the coaching tips and improving your application of the PuMP template.
Each group size will be kept to a maximum of 15 people: small enough that you each get individual coaching, and just large enough so you can learn from other participants' coaching too. But don't worry: it will be 100% constructive and supportive – you won't have any reason to feel embarassed or like you're being compared to others. It's only about collaboration, not competition.
We're going to kick off in the new year, toward the end of January 2014. This will give you time to meet the necessary pre-requisite of taking the PuMP Blueprint training either at an upcoming PuMP Blueprint Workshop or anytime that suits you via the PuMP Blueprint Online Program. Completing the training prior to the PuMP Quick Win Coaching Program is essential!
How to register for our January-March 2014 PuMP Quick Win Coaching Program:
Your place in the "PuMP Quick Win Coaching Program" is a $2,995UD investment (Aussies add 10% GST). And I probably don't need to remind you just how small this amount is relative to the size of the real improvement you can make by measuring and monitoring a performance result that matters!
Go ahead and estimate your ROI: add the $2,995 to the value of your time participating in the program, and compare that to your estimated performance improvement. Is it worth it? It must be!
(For currency conversions, we use x-rates.com.)
Registration will open shortly, but you can reserve your place by emailing us, our program coordinator. We will let you know as soon as registration opens so you can register to confirm your spot.
More information:
If you have any questions about the PuMP Quick Win Coaching Program, please email us at info@staceybarr.com and we will respond within 48 hours (usually much faster).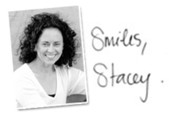 Stacey Barr
the Performance Measure Specialist
Connect with Stacey
Haven't found what you're looking for? Want more information? Fill out the form below and I'll get in touch with you as soon as possible.
*We respect your email privacy.
---

Suite 117 Level 14,
167 Eagle Street,
Brisbane Qld 4000,
Australia

Stacey Barr Pty Ltd
ACN: 129953635
Director: Stacey Barr
Free KPI Tips In Your Inbox
Sign up for our Measure Up email tips and immediately get free access to the "10 Secrets to KPI Success" online course!
We respect your email privacy.