Using Smart Charts – Course Overview

Course Overview
Create the singularly most powerful chart for your KPIs and dramatically transform the speed and cost of performance improvement.
What you'll learn about using Smart Charts:
In this 7-part online course, we're going to cover, in practical detail with heaps of real-world examples, everything you need to know to get your KPIs into these simple but powerful Smart Charts before the course is even over:
The anatomy of the Smart Chart (it's actually been used by world-class companies for decades, but has flown under the performance management radar for too long).
Step-by-step instructions and demonstration of how to create the Smart Chart for virtually all your KPIs, WITHOUT special software or statistical skills.
The simple interpretation rules that make the Smart Chart the easiest chart to interpret validly, consistently and with confidence every time.
The broad range of KPI types that suit Smart Charts and how to know when it's not appropriate to use Smart Charts.
How target setting becomes a breeze and a nifty new way to put targets on your KPI graphs that uses less ink/pixels but conveys more information.
How to put Smart Charts into your performance dashboards to achieve simultaneously what the space-saving sparklines and bullet graphs currently achieve together.
How to prepare for your course:
I recommend you think about this course as a guided implementation.
So have a real KPI ready to create a Smart Chart during the course!
Gather at least 7 values of your KPI, put them into a spread sheet and be ready to use them during the course. If you have more than 7 values, that's great – I like to start with 24 historic values (two years' worth of monthly values) of my KPIs for these charts, so I can see a fuller story emerge.

There are 7 lessons in total:
To take a lesson, simply click on the link and you will go to the page where the lesson resources and videos are ready and waiting for you.
The numbers in brackets are the lengths of each lesson in minutes and seconds.
If you have questions…
As you take the program, step by step, if you have any problems at all, please contact our Program Manager, Debbie Brown, directly at info@staceybarr.com.
Catch you soon, on the course!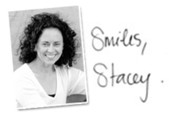 Connect with Stacey
Haven't found what you're looking for? Want more information? Fill out the form below and I'll get in touch with you as soon as possible.
*We respect your email privacy.
---

Suite 117 Level 14,
167 Eagle Street,
Brisbane Qld 4000,
Australia

Stacey Barr Pty Ltd
ACN: 129953635
Director: Stacey Barr
Free KPI Tips In Your Inbox
Sign up for our Measure Up email tips and immediately get free access to the "10 Secrets to KPI Success" online course!
We respect your email privacy.