About Stacey Barr and PuMP
Welcome from your host, Stacey Barr
It's a pleasure to have you visit my website!
It's all about performance measurement (did you notice?). This website is where I share what I've learned since 1993 about how to measure performance more meaningfully to accelerate business and organisational performance improvement. Get to know me a bit more, here.
Thousands of people around the world have told me their struggles with performance measurement. Irrespective of their industry, sector, size or culture, it's apparent that everyone has very similar struggles with performance measurement. They can't find meaningful measures that align to strategy, they can't measure intangible goals, they can't get staff engaged in measuring and improving performance.
I've learned that the causes for these struggles are the long-held beliefs and bad habits people have in measuring performance. So what I do is to challenge these beliefs and habits, and help people replace them with practices that work. These practices have become the PuMP methodology. Learn more about PuMP, here.
On this site you'll find lots of practical tips, techniques and templates for better performance measurement, PuMP-style. There's plenty of free information to tweak your current approach. And if you want much better performance measures much faster, you'll also find information about our courses and programs and licensed PuMP Consultants to overhaul your approach to measurement.
If you have questions, please just ask me: info@staceybarr.com. You will get a response in a day or so.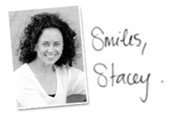 Stacey Barr
the Performance Measure Specialist
Connect with Stacey
Haven't found what you're looking for? Want more information? Fill out the form below and I'll get in touch with you as soon as possible.
*We respect your email privacy.
---

PO Box 422
Samford, Qld, 4520
Australia

Stacey Barr Pty Ltd
ACN: 129953635
Director: Stacey Barr
Free KPI Tips In Your Inbox
Sign up for our Measure Up email tips and immediately get free access to the "10 Secrets to KPI Success" online course!
We respect your email privacy.