Practical Performance Measurement
Practical Performance Measurement: Using the PuMP Blueprint for Fast, Easy and Engaging KPIs
Practical Performance Measurement: Using the PuMP Blueprint for Fast, Easy and Engaging KPIs, is performance measure specialist Stacey Barr's first book.
"Never have I read something so relevant, valuable and practical that was so easy to read. Stacey simplifies performance measurement and her writing style and use of real life examples keeps you engaged to the end." – Darran Lancley
Practical Performance Measurement lays out the step-by-step process – the blueprint – to overcome the common struggles we all have with KPIs. It guides you in the most practical way to choose, create and use meaningful performance measures, faster, easier and more engagingly than ever before.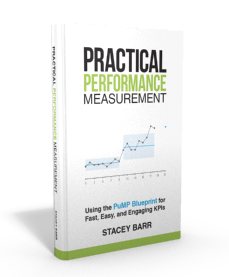 The most common struggles that executives, managers, and strategy and performance professionals have in measuring performance include measuring intangible goals, finding meaningful measures, and getting buy-in for reporting and using measures.
We struggle because we have bad habits. The struggles we have with measuring performance are always associated with a common set of practices. These practices have become bad habits. But when they are replaced with the techniques and templates of the PuMP Blueprint, the struggles ease.
Make measuring performance faster, easier and more engaging. The PuMP Blueprint makes performance measurement faster by helping you get it right the first time, not spending years measuring useless things. It makes it easier by giving you detailed how-to steps deliberately designed to solve those common struggles. It makes it more engaging by involving people and their ideas and decisions, not just seeking their sign-off.
PuMP helps you build a performance measurement process that truly improves performance. It makes the approach to measurement deliberate and logical, replacing the bad KPI habits that have caused so many people to be frustrated and cynical about KPIs.
And Practical Performance Measurement: Using the PuMP Blueprint for Fast, Easy and Engaging KPIs guides you through the entire PuMP methodology, showing you each technique and examples of how to do it.
What have readers said about the book?
You can read dozens of reviews at amazon.com, and here are a few of them:
"…it is destined to be the go to book for anyone designing measurement programs. She walks the reader through all of the ins and outs of creating a solid foundation for a no nonsense performance plan. Like many other reviewers, I found myself saying yes to so many of the details that I knew but had not articulated into an approach." – T.G. Griffin

"Best, most readable book on performance metrics I have found. This is the second copy I have purchased and I bought this one for a client.,. That says it all." – Sam Turner

"I just loved this book. I have been following Stacey's blog for a few months now. Almost every page is filled with insights, I have highlighted at least a few lines on almost every page in the book." – Sanjay Radhakrishnan

"The best book on any performance management topic I have read. Every idea Stacey brings forward is well thought through from a practical view so it is easier to implement." – Rune Nilsen

"The book (I would recommend as complement to the actual Blueprint Workshop) guides you through the various steps in such a way that you want to immediately select your Measures team and get going. The myriad of real examples that Stacey can draw on already make the methodology come to life as you are reading. As I am currently in the process of 2 PuMP Pilots, I will look again and again at this book as a reference to steer me right. It really is as if I hear Stacey's voice coaching me through every stage. " – Elke Troosters

"Stacey Barr has written an absolute jewel for business managers, consultants, coaches and facilitators like me, written in a very appealing style. Thank you!" Harold M. Hendrie
Read dozens more reviews at:
A 2nd Edition is on the way…
The 1st Edition of Practical Performance Measurement completely sold out and rather than doing another print run, a 2nd Edition is in the pipeline. To stay up to date on all that's happening, you can sign up to our email list (and also receive plenty of practical ideas like those covered in the book) in my monthly email newsletter and YouTube channel:

Reviews:
"For many years Stacey Barr has been the most prominent voice I know helping managers learn and apply effective and practical ways to measure performance. Stacey has an enthusiastic global following of fans. Her book provides an important contribution to the body of knowledge for identifying and using performance measures. The book describes proven measurement methods with dozens of ideas based on her extensive experience. Many organizations struggle with measurements. This book is a "must read" for C-suite executives, their managers, and anyone involved with improving an organization's performance."

Gary Cokins, Author of Performance Management – Integrating Strategy Execution, Methodologies, Risk and Analytics Founder, Analytics-Based Performance Management LLC
"This long awaited book from Stacey Barr is a welcomed addition in the performance measurement space. The book will have a profound influence on the reader as it has for me. It will help many teams to arrive at performance measures that work. This book is a must have for the KPI team's library."

David Parmenter, Author of Key Performance Indicators: Developing, Implementing and Using Winning KPIs
"Performance measurement is a process, not an event", is a key point in Stacey's new book and captures the essence of her message. Stacey Barr is among a handful of people who understand performance measurement at a deep level, and lucky for us, she communicates "how to do it" simply and with style. Based on many years of practical experience with her PuMP Blueprint performance measurement framework, Stacey's book tells great stories and offers inspiring examples. Her enthusiasm for improving the way organizations measure performance is contagious.
If you are trying to measure what truly matters, trying to answer the question: "How will we truly know success when we see it?", and trying not to just measure the easy stuff, then you should buy this book–it belongs on the top shelf of your library.

Howard Rohm, Ph.D., Co-Founder & CEO the Balanced Scorecard Institute
Author of The Institute Way: Simplify Strategic Planning & Management with the Balanced Scorecard
Stacey Barr knows more about performance measurement than anyone else I know — including myself! She has written such an incredible, readable, and comprehensive book on performance measurement that it literally left me speechless and breathless! This book covers just about every aspect of performance measurement and is, by far, the best single resource on the subject that I have ever seen. Stacey's PuMP model is both elegant and easy to implement. If you are looking for a book that will educate you about performance measurement and guide you in doing it well, 'Practical Performance Measurement' is the one book you should read and use. I assure you that it will become an invaluable resource. The fact that Stacey has listed me as an influence in her thinking is an ultimate compliment and leaves me feeling very humble indeed. Thank you, Stacey, for this master work and landmark contribution to the field!

Dean R. Spitzer, Ph.D., Author of Transforming Performance Measurement: Rethinking the Way We Measure and Drive Organizational Success
Connect with Stacey
Haven't found what you're looking for? Want more information? Fill out the form below and I'll get in touch with you as soon as possible.
*We respect your email privacy.
---

Suite 117 Level 14,
167 Eagle Street,
Brisbane Qld 4000,
Australia

Stacey Barr Pty Ltd
ACN: 129953635
Director: Stacey Barr
Free KPI Tips In Your Inbox
Sign up for our Measure Up email tips and immediately get free access to the "10 Secrets to KPI Success" online course!
We respect your email privacy.