PuMP Evidence Based Leadership Program
Develop outcome-oriented strategic KPIs that meaningfully monitor your organisation's success with the PuMP Evidence Based Leadership Program.
Struggling to get meaningful, results-oriented KPIs for your strategic goals?
The most common struggles Executives have with measuring their strategy are these:
Struggle #1: How to measure a strategy that seems immeasurable and is filled with vague words like efficient, effective, sustainable, quality, reliability and productive
Struggle #2: How to find KPIs that meaningfully track outcomes, not just the completion of strategic initiatives or programs
Struggle #3: How to get people engaged in the strategic direction, and to align their operational measures with strategy
It's because of some bad KPI habits you may not even know you have!
You can't measure a goal or objective that is weasely or action-oriented. People ask this question too soon: "what should we measure?"
But they should first answer the question "what are the results we're trying to achieve?"
You won't find great KPIs by brainstorming, or hiring a consultant to tell you. Measure Design must deliberately focus on the evidence of the results you're trying to achieve as the basis for measures that relevant, well-formed and feasible.
If you want better measures or KPIs, you need to take a different approach.
If you have these struggles too, then clearly, the approach you're using isn't working! And if your's is like most organisations, chances are you don't really have a true approach to performance measurement!
Most people have taken many years to come to the realisation that brainstorming KPIs just doesn't produce a concise number of relevant, sensible and feasible performance measures.
PuMP® is the approach we use to get meaningful, strategically-aligned and engaging KPIs and performance measures.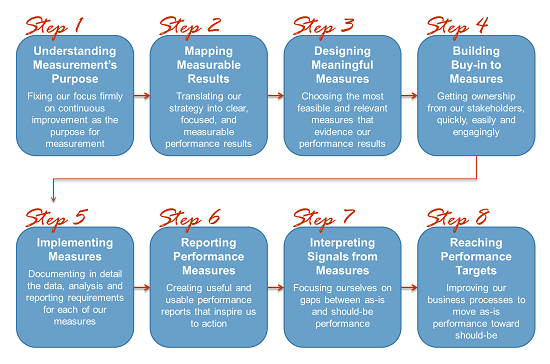 I created PuMP® in the mid 1990s as a deliberate solution to my own performance measurement struggles, and it has since evolved into a practical methodology used around the world by hundreds of organisations.
How PuMP® can help you create your Strategic KPIs in 2 days…
In a 2-day PuMP® Executive KPI Workshop, we produce a concise set of Strategic KPIs to monitor the outcomes of your strategy: the success of your business or organisation. Here's what happens:
STEP 1: Review and Assess Your Strategy

Prior to the workshop, we will review your strategy for measurability, and help your Executive Team prepare for the workshop.

STEP 2: Improve the Measurability of Your Strategy

We use PuMP® Results Mapping to translate your strategy into measurable language (you can still keep the original language if you want).

Step 3: Design Your Strategic KPIs

Then we use the PuMP® Measure Design technique to systematically choose Strategic KPIs that are meaningful, relevant, cost-effective and easy for people to buy-in to. These KPIs will be clearly articulated, and ready for your analysts to detail their implementation (using the PuMP® Measure Definition template, if you choose).

STEP 4: Engage and Cascade Your Strategic Goals and KPIs

Finally, we will plan your first PuMP® Measure Gallery to "socialise" your new Strategic KPIs. This engages stakeholders (including staff) to get to the know the KPIs and start the process of cascading your strategy. The Measure Gallery is renowned for building buy-in and generating excitement for performance measurement and strategy execution.
Who should be at the PuMP® Executive KPI Workshop?
We recommend that your entire Executive Team, including the CEO, participates in this workshop. Active participation is the most powerful way to encourage ownership and engagement – and to ensure that the true intent of the strategy is captured by the Strategic KPIs. It's also very important that your Strategic KPIs have complete support and buy-in from all your senior leaders.
If you're interested in this program, you can download the detailed brochure and quote. Then you are very welcome to book a complimentary call with me to plan your workshop.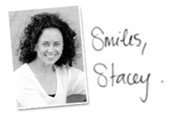 Stacey Barr
the Performance Measure Specialist
Connect with Stacey
Haven't found what you're looking for? Want more information? Fill out the form below and I'll get in touch with you as soon as possible.
*We respect your email privacy.
---

PO Box 422
Samford, Qld, 4520
Australia

Stacey Barr Pty Ltd
ACN: 129953635
Director: Stacey Barr
Free KPI Tips In Your Inbox
Sign up for our Measure Up email tips and immediately get free access to the "10 Secrets to KPI Success" online course!
We respect your email privacy.