Create a High-Performance Culture with PuMP and Evidence-Based Leadership
PuMP and Evidence-Based Leadership are how you cascade a measurable strategy throughout your organisation to physically create your high-performance culture.
PuMP and Evidence-Based Leadership are two very practical, logical, engaging and proven methods for measuring what matters in your organisation. These approaches easily help everyone align to that organisation's purpose. And they show you how to use measurement as the gravity for engaging everyone in executing strategy, improving performance and reaching targets.
Together, PuMP and Evidence-Based Leadership are the most practical tools to create a high-performance culture.
I wrote my second book, Prove It!, because I wanted to give leaders something of a recipe for how to create high-performance organisations.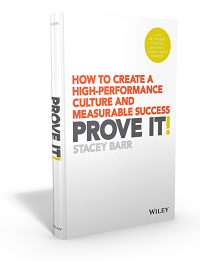 A high-performance organisation is one that can measurably prove that they fulfill their mission, reach their vision, and achieve any goal they set.
And evidence-based leadership is the recipe to create this.
The backstory to writing Prove It! is the 24 years I've spent observing how people struggle to measurably improve performance. Leaders can struggle to convincingly prove their organisation's success, they can struggle to get measurable impact from their strategic initiatives, and they can struggle to get their strategy implemented by the organisation.
Poor performance measurement practice is often at the root of these struggles.
But *good* performance measurement practice is the tipping point between *assuming* that the organisation is working well, and *knowing* that it is. Good performance measurement does wonders for making strategy far easier to communicate, far easier to understand, and far easier to execute. Good performance measurement can quickly – and almost effortlessly – engage people all through the organisation to own and improve performance.
So before I created the Evidence-Based Leadership approach, and published it in Prove It!, I created PuMP. PuMP is detailed in my first book, Practical Performance Measurement.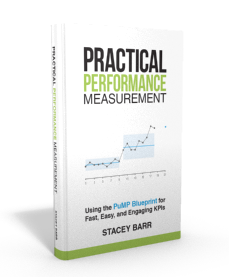 PuMP is one of the only true performance measurement methodologies we know of:
It's constantly described by users – all around the world – as thorough, practical, engaging, and sensible.
It works. For everyone. In every organisation.
It creates great performance measures that are quantitative, that align to strategy, that people feel ownership for, and even excited to use.
It focuses people on using measures to improve performance, rather than avoiding measures for fear of judgment and blame.
It sets up empowering and insightful analysis and reporting of performance, so the right improvement actions can be chosen and implemented.
There is an astonishing power that comes from using the *right* approach to measurement, if you want to create a high-performance culture, and ultimately, an organisation that excels at what it exists to do.
PuMP is how you cascade Evidence-Based Leadership throughout your organisation. Using PuMP to support your Evidence-Based Leadership is how you physically create your high-performance culture and measurable success.
If you'd like more information on how using PuMP and Evidence-Based Leadership can help you, simply contact us at info@staceybarr.com.
Connect with Stacey
Haven't found what you're looking for? Want more information? Fill out the form below and I'll get in touch with you as soon as possible.
*We respect your email privacy.
---

Suite 117 Level 14,
167 Eagle Street,
Brisbane Qld 4000,
Australia

Stacey Barr Pty Ltd
ACN: 129953635
Director: Stacey Barr
Free KPI Tips In Your Inbox
Sign up for our Measure Up email tips and immediately get free access to the "10 Secrets to KPI Success" online course!
We respect your email privacy.