PuMP Blueprint Workshop Warmup

The PuMP Blueprint Workshop Warmup helps you get the most out of the workshop!
This is a special pre-workshop message for you, from PuMP's creator, Stacey Barr, to help you warm up, prepare and get the most out of the workshop. There are a few things we'll cover, including:
the 3 reasons so many people are still struggling with performance measurement, which this workshop will directly address
the structure of the 2-day Performance Measure Blueprint™ Workshop and how it flows together as a process you'll practice with me at the workshop AND take back to work ready to implement
how to start thinking now about how you will first implement what you learn at the workshop, so you can return to work after our 2 days together and hit the ground running and keep building the momentum for better performance measures and performance improvement
what to bring along with you to the workshop, and why
Listen to the 30-minute warmup message here:
Click here to download the mp3 RECORDING to your PC and play it using your preferred audio player.
Click here to download the pdf TRANSCRIPT to your PC and read it using Acrobat Reader.
If you have any questions, email my team at info@staceybarr.com.
Enjoy your experience learning and applying PuMP, for more meaningful performance measurement.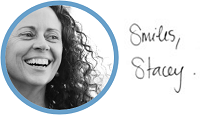 the Performance Measure Specialist
Connect with Stacey
Haven't found what you're looking for? Want more information? Fill out the form below and I'll get in touch with you as soon as possible.
*We respect your email privacy.
---

Suite 117 Level 14,
167 Eagle Street,
Brisbane Qld 4000,
Australia

Stacey Barr Pty Ltd
ACN: 129953635
Director: Stacey Barr
Free KPI Tips In Your Inbox
Sign up for our Measure Up email tips and immediately get free access to the "10 Secrets to KPI Success" online course!
We respect your email privacy.