Signup for article readers
Get a practical KPI tip in your inbox each month.
Most people struggle with measuring performance. And I've learned over many years, and from many thousands of my readers and clients, that those struggles are almost universal. Among the most common are:
struggling to measure intangible goals
struggling to find meaningful measures
struggling to get buy-in from colleagues, managers, and leaders
struggling to align measures to strategy
struggling to get started with measures and KPIs
You can start solving your struggles with KPIs immediately.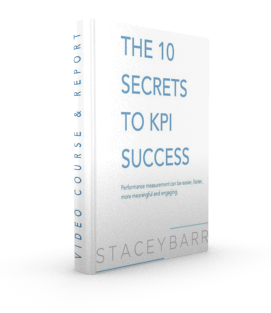 Your free subscription to my Measure Up newsletter includes practical tips, techniques and examples to help you make performance measurement easier, more meaningful, and more engaging, including:
The 10 Secrets to KPI Success video course that you can start immediately
A free report: The 10 Secrets to KPI Success, to support the video course
Monthly practical tips in articles, videos, case studies, and examples
Invitations to free interactive educational webcasts with me & my global PuMP team
What subscribers say about Measure Up:
"I'm reading other authors about performance measurement, business intelligence and KPIs… I've got to tell you that you stand out by a long shot and to me it's because you are so grounded." — David Lafleur, M. Sc. Intelligence d'affaires, Architecte d'affaires BI, La Capitale, Canada

"The benefits with these webcasts is that it reminds me of what we're aiming for as performance specialists. It reinforces why we do this and hearing that others are experiencing the same issues, makes me feel less isolated and not to be so hard on myself for not implementing things faster. I still remind myself, roll out is an Evolution, not Revolution." — Tanya McGuckian, Senior Adviser Planning and Performance at Victorian Building Authority, Australia

"I follow your blog and read your book like 10 times by now within the last 2 years. You have no idea how much I appreciate that someone, in this awkward world, is actually taking care of something so important in everyday business like KPI. It only proves that the most atomic elements are the most crucial ones (I work with KPIs daily)." — Andrzej Przeliorz, Dashboard Engineer, Poland

"A colleague and I discovered your web page and it was a revelation. It is putting everything we've ever felt about our metrics into a clear, thoughtful structure. We're reading your books and seeing how to use those concepts in our work." — Jonathan Mates, UCLA, USA

"Stacey, you provide some of the most straightforward, understandable, and useful information for those of us in the practitioner ranks that I have seen anywhere." — Dean Creed, Supervisor, Quality and Performance Support, Santee Cooper, USA

"Stacey seems to make every event 'the place to be' for anyone interested in measuring performance and positions herself as a key person to know in the field. I have had the privilege of being among the many experts Stacey has interviewed and she gets the story in a way that even makes me see my own work in a different light. Thanks Stacey!" — Douglas W. Hubbard, author of "How to Measure Anything"
Get your first tip, right now:
We respect your email privacy.
Connect with Stacey
Haven't found what you're looking for? Want more information? Fill out the form below and I'll get in touch with you as soon as possible.
*We respect your email privacy.
---

Suite 117 Level 14,
167 Eagle Street,
Brisbane Qld 4000,
Australia

Stacey Barr Pty Ltd
ACN: 129953635
Director: Stacey Barr
Free KPI Tips In Your Inbox
Sign up for our Measure Up email tips and immediately get free access to the "10 Secrets to KPI Success" online course!
We respect your email privacy.