How to get started with performance measurement and KPIs…
How to get started with performance measurement and KPIs leads back to The Most Common KPI Questions…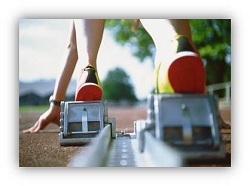 Performance measurement – finding the right KPIs and measures, and putting them to use to improve organisational or business performance – can get complex if you take on too much, too soon.
Start small, with a focus on growing your skill and confidence, getting some small wins quickly, and work gradually toward making performance measurement a natural part of doing business.
These resources will help you start small, get some quick wins, and build a foundation to measure what matters, as and when you need to:
12 steps for getting started with KPIs
Before we can throw ourselves into developing corporate-wide performance measurement or KPI systems, or get the best return from business intelligence (BI) and dashboard applications, we have to know how to meaningfully measure what matters. And for novices, this means starting small and learning quickly so you build toward a corporate-wide system that will be meaningful and sustainable. Want to know the 12 essentials steps for a quick KPI success?
Ten biggest mistakes in managing organisational performance
Ah, performance measurement. It's one of the pillars of organisational success and one of the perils of organisational management. We all know how challenging it can be to get right, but often we're not really sure why. Here are the 10 biggest mistakes most people don't even know they're making when trying to manage organisational performance. Make sure you don't make them!
Are you underestimating the performance measurement effort?
If you want a collection of useful and useable performance measures that lead to improvement of performance, then certain things must occur. Do you know what these activities are? Do you know who the departments and people are that contribute to these activities? Do you have a good idea about the kinds of resources that are needed to properly perform these activities? Do you appreciate how much time and effort is involved in properly performing these activities? Read this article to scope the activities in the performance measurement process.
Want more?
If you'd like more information about measuring what matters, contact me.
Connect with Stacey
Haven't found what you're looking for? Want more information? Fill out the form below and I'll get in touch with you as soon as possible.
*We respect your email privacy.
---

PO Box 422
Samford, Qld, 4520
Australia

Stacey Barr Pty Ltd
ACN: 129953635
Director: Stacey Barr
Free KPI Tips In Your Inbox
Sign up for our Measure Up email tips and immediately get free access to the "10 Secrets to KPI Success" online course!
We respect your email privacy.