About the PuMP Approach to Performance Measurement and KPIs
PuMP is a practical and engaging performance measurement approach to develop KPIs that are meaningful and measure what matters.


Did you know that almost everyone shares the same set of struggles with performance measurement and KPIs?
All around the world, people find it a mysterious struggle to measure business performance meaningfully. This includes executives, managers, strategy and performance professionals, project managers, business analysts, data scientists – anyone trying to measure and monitor performance. They struggle to:
find a shared understanding of what measures or KPIs actually are, and why we need them
easily find meaningful, results-oriented performance measures (metrics or KPIs)
get true buy-in to performance measurement
strongly align performance measures to strategy
measure those seemingly-immeasurable intangible goals
report performance measures to make the right actions obvious
use performance measures to drive improvement and reach targets
Our struggles with performance measurement are caused by common KPI practices!
There are some very common practices in how people develop KPIs and performance measures. I've seen them in every organisation and business I've helped, since the mid 1990s. I hear about them from many thousands of my subscribers and readers.
Is this how you try to measure performance and develop KPIs too? Practices like:
brainstorming KPIs and measures, or looking for off-the-shelf or 'best practice' measures
failing to involve people in the right ways to develop and use measures, which creates even more disinterest, cynicism and fear
measuring activity rather than results (and using milestones rather than true measures of performance)
writing objectives and goals with vague, weasely words like effective, efficient, sustainable, reliable, quality, and so on
filling reports with trivial gauges and dials, gaudy and complex graphs, and stupifying tables and commentary
interpreting performance by comparing this month to last month, and knee-jerk reacting to any and every change in the data
These common practices are actually bad KPI habits! They became common practice in the absence of a proper performance measurement methodology, like the PuMP Blueprint. A proper performance measurement methodology will not include any of these bad KPI habits, because they just don't produce meaningful and engaging performance measures that drive improvement.
These KPI habits might be common practice, but that doesn't mean they're good practice.
To stop the struggling and get better performance measures that lead to greater performance improvement, we obviously have to do something different. Doing what we've always done – those bad habits in particular – means we can only get the same useless KPIs, and continue with the same struggles.
This was my experience in my early years as Measurement Consultant with Queensland Rail, back in the mid 1990s. There was an absence of a proper performance measurement methodology to help me. And no, the Balanced Scorecard is not a performance measure methodology! So I had to create an approach to develop meaningful performance measures or KPIs.
I researched, tested, tweaked and documented what worked to solve each struggle I had in developing and using performance measures. What emerged and evolved is the PuMP Blueprint (more about my story with PuMP here).


The PuMP Blueprint is a framework to redesign your performance measurement process.
Performance measurement is a process, or a series of steps. It's not a brainstorming session and it's not a dashboard implementation. It's not a report. Good performance measurement is a deliberate methodology to choose, implement and use quantitative KPIs or metrics or measures (whatever you call them). The PuMP Blueprint is such a process: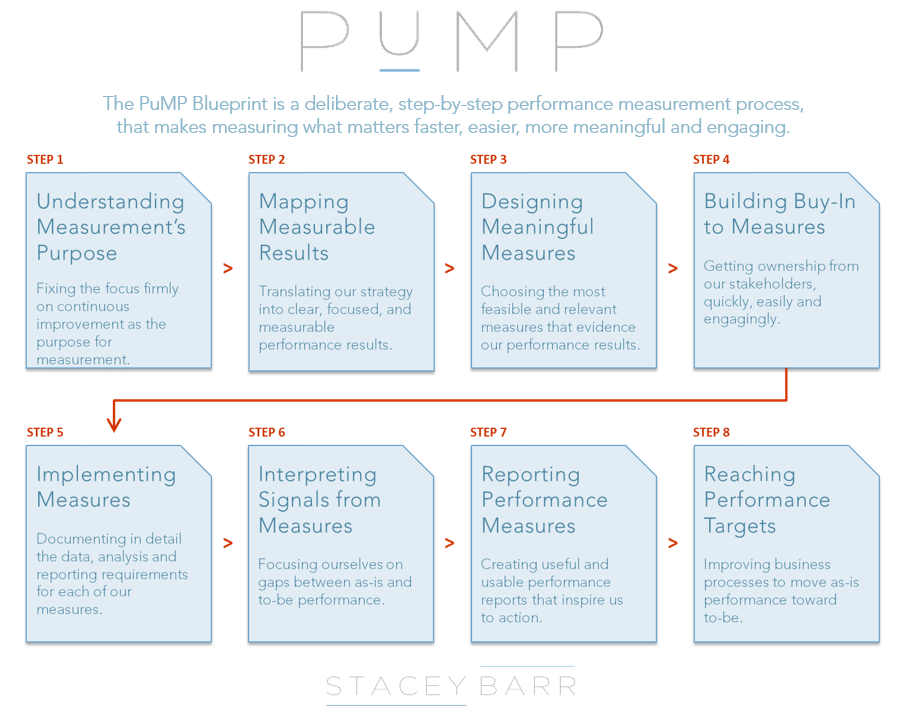 Each of these eight steps in PuMP deal head-on with the struggles we have when we measure performance. These steps replace the bad KPI habits that cause those struggles. Each step in PuMP provides much easier, faster and more engaging techniques that produce meaningful performance measures (or meaningful KPIs).
Let's walk through each of PuMP's eight steps:
STEP 1: Understanding Measurement's Purpose
Fixing the focus firmly on continuous improvement as the purpose for measurement.
The PuMP Blueprint starts us off with a self-assessment tool called the PuMP Diagnostic. It's not really a survey, but rather a discussion tool. It helps our team understand what good measurement means and how to do it properly, avoiding the most common struggles and problems. It plants the seeds of buy-in, it gives us hope that developing the right KPIs is possible, and gets us all ready to start.
STEP 2: Mapping Measurable Results
Translating our strategy into clear, focused and measurable performance results.
It's so hard to measure the right things. It's hard to find out whether our strategy (our goals or objectives) is measurable enough. But with the two templates called PuMP Measurability Tests and PuMP Results Map we can make our goals or objectives clear, specific, and easily measurable. This step in PuMP is many people's favourite because they just can't believe how much clarity it gives them about their goals.
STEP 3: Designing Meaningful Measures
Choosing the most feasible and relevant measures that evidence our performance results. 
It's vitally important to recognise the traditional approaches that people take to selecting measures, because most of those approaches fail. They fail because they are shortcuts that don't take us where we want to go. But if we use the PuMP Measure Design template to design measures, it's logical and easy to create KPIs or measures that evidence our goals, and that are meaningful, relevant, cost effective, and will make it easy for people to buy in.
STEP 4: Building Buy-in to Measures
Getting ownership from our stakeholders, quickly, easily and engagingly.
To avoid the risk of our colleagues and managers not buying in to performance measures we create, we can use the PuMP Measure Gallery technique. It's the most convenient way to get feedback and input from everyone, without boring them by workshops and presentations and lengthy emails. And it's an easy and simple way to build buy-in and generate excitement, both for performance measurement in general and for our new measures in particular.
STEP 5: Implementing Measures
Documenting in detail the data, analysis and reporting requirements for each of our measures.
Too many measures are never successfully brought to life (i.e., never reported or used). But when we use the PuMP Measure Definition technique, we bring more of the right measures to life, in the right way. It helps us detail exactly how each of our measures should be calculated and implemented. Gradually, we build a Corporate Performance Measure Dictionary (which is the perfect specification for building a dashboard that's useful).
STEP 6: Interpreting Signals from Measures
Focusing ourselves on gaps between as-is and should-be performance.
It's so easy to misinterpret performance measure signals and, frighteningly, most people do misinterpret them. To avoid reacting to the wrong signals, we follow the PuMP Interpreting Measures technique. It's based on the use of XmR charts. Xmr Charts make the true signals of change in our performance measures easier to see, statistically valid, and incredibly useful for leading us to insight.
STEP 7: Reporting Performance Measures
Creating useful and usable performance reports that inspire us to action. 
Typical performance reports are next to useless, even when these reports use the latest and greatest dashboard dials, gauges, and graphs. Instead, we use the PuMP Report Design technique to avoid those typical performance reports. And this technique helps us quickly and easily produce performance reports that answer the three most important questions that every performance report should answer. And it helps us design the report layout in the most digestible way to support our decision making.
STEP 8: Reaching Performance Targets
Improving our business processes to move as-is performance toward should-be.
The role of performance measures is to help us make quick, easy and economical performance improvement. The PuMP Using Measures technique helps our performance teams to make real improvements that last, moving performance closer to meaningful targets.


The PuMP Blueprint makes measuring performance easier, faster, more meaningful and engaging.
The results of using PuMP as your performance measurement approach are that you will:
make your strategy measurable and easier to communicate and cascade
select and design performance measures that are far more meaningful than brainstorming or benchmarking ever can produce
get buy-in from staff and stakeholders to enthusiastically own performance measurement and improvement
bring your measures to life in a consistent way, using the right data and with the right ownership
design insightful and actionable reports and dashboards that focus discussion on improvement
clearly see the

real

signals from your measures about whether performance is improving or not
convincingly hit your performance targets, and make measurement about transformation, not about blame or covering your bum!
Ultimately, when you implement PuMP, you achieve your goals sooner and with less effort, and in a way that's engaging and practical. PuMP changes beliefs, attitudes, knowledge and skills about measuring performance. And that's how to create a high-performance culture.
More about PuMP?
There are a few ways to learn more about PuMP:
Learn the PuMP Blueprint, and end your performance measurement struggles…
You can learn all the PuMP techniques through one of three options:
at our public PuMP Blueprint Workshops around the world
by hosting your own in-house PuMP Blueprint Workshop for your colleagues,
signing up for lifetime membership in the PuMP Blueprint Online Program
If you have any questions, or would like more information about PuMP, please contact us at info@staceybarr.com.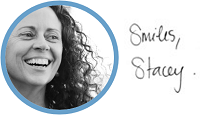 Connect with Stacey
Haven't found what you're looking for? Want more information? Fill out the form below and I'll get in touch with you as soon as possible.
*We respect your email privacy.
---

Suite 117 Level 14,
167 Eagle Street,
Brisbane Qld 4000,
Australia

Stacey Barr Pty Ltd
ACN: 129953635
Director: Stacey Barr
Free KPI Tips In Your Inbox
Sign up for our Measure Up email tips and immediately get free access to the "10 Secrets to KPI Success" online course!
We respect your email privacy.