How Many KPIs Do You Need?
by Stacey Barr |
Try this formula for the right number of KPIs or performance measures that you truly need, so you can stop drowning in too many KPIs or thirsting for more.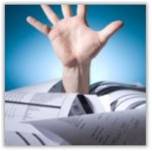 STEP 1: Stocktake your current KPIs against your goals.
KPIs shouldn't float around unattached and unaligned to goals. They are evidence of progress toward goals. Get a list of your goals, and list of your KPIs or measures, and link them to each other. A tool like this KPI excellence checklist can help you stocktake your current measures.
If every KPI or measure links to everything, you've gone too far. Focus on linking KPIs or performance measures to the goals they are the most direct and strongest evidence of. If any KPIs or measures aren't strong evidence of anything, toss them.
STEP 2: Choose your three priority goals.
If you only have three goals, that's great. If you have more than three goals, that's not great. If you expect to achieve any of them with excellence (and why would you aim to achieve a goal without excellence?) you have to be ruthless: pare it down to three goals.
Why? The FranklinCovey Institute talk about WIGs, wildly important goals, in this overview of their 4 Disciplines of Execution. You can move onto the other priorities, and measure more of different things, after you achieve your current three WIGS.
STEP 3: For each priority goal, have no more than three KPIs.
Sometimes a goal only needs one measure or KPI. Excellent – that will keep it simple. But you can sometimes need two or three KPIs or measures for any one goal, for example, when you need more than one stakeholder's perspective on the goal. But no more than three KPIs or measures per goal!
If you find that none of your existing KPIs align directly to one of your top three goals, be very deliberate about designing a new way to measure it. Don't brainstorm or curate KPIs from libraries and lists. Design your own KPI that measures your unique goal as directly and feasibly as possible.
And ta da! That's how many KPIs you need right now.
Connect with Stacey
Haven't found what you're looking for? Want more information? Fill out the form below and I'll get in touch with you as soon as possible.
*We respect your email privacy.
---

Suite 117 Level 14,
167 Eagle Street,
Brisbane Qld 4000,
Australia

Stacey Barr Pty Ltd
ACN: 129953635
Director: Stacey Barr