Start Small When You Get Started With KPIs
by Stacey Barr
Starting with too many KPIs still remains a huge mistake that too many people make. Experience still teaches us to start small when we start with KPIs.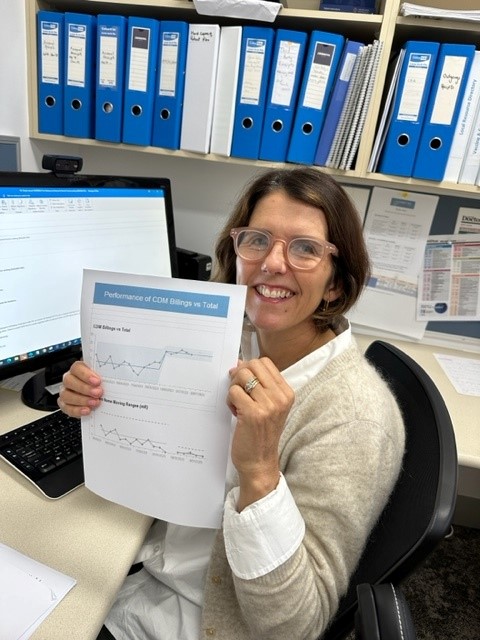 Cass Quilty started small, and it worked.
Too many people attempt to build a complete and comprehensive performance measurement system too soon. They learn the method, then go and implement it everywhere, all at once. The endemic struggles with performance measurement should alert us to the need for a much different approach, and with anything new and different, it should be practiced on a small scale before rolling out.
Even after more than 20 years working exclusively in the field of performance measurement, I have not ever seen evidence that an immediate roll-out of a new KPI approach works sooner or better. Not in any size or type of organisation. Starting small, when starting a new KPI approach, maximises the chance of longer-term success.
Cass Quilty is a medical practice owner in Australia, and she wanted to try measurement as a tool for practice improvement, and joined one of my programs. She took my advice and started small. And she was one of the first in the program to successfully improve her practice's performance.
"The single biggest learning from this experience has been to keep it simple with one measure and share your data frequently." – Cass Quilty, Medical Practice Owner
In a "hot seat" interview at the end of the program, Cass shared her experience with measuring what matters. And I stand behind every piece of advice she shared with us. There are seven of them, and to me they sound like the perfect ingredients for any team to bake into their first implementation of a new KPI approach. Here they are, for you:
1. A small team to involve from the start.
When Cass started my program, she thought it would be useful to bring the nurses and doctors along the learning journey with her. She involved them in the choice of what to measure and how to improve it. They found it engaging and empowering, and took more ownership for the practice's performance. And Cass learned not to underestimate her team.
"Communicating with and involving your team is an absolute must… and a game changer. In fact, the most significant impact, over and above the improvement in our measure, was the team buy-in. It's empowered them and created positive competition." – Cass Quilty, Medical Practice Owner
To set up your team to get started with a new KPI approach, here are a few tips to get the right people involved.
2. One goal that is problem-focused.
Our program started by scoping the typical problems that medical practice owners wish they could solve. Collectively, there were at least a dozen of these problems. But we encouraged everyone to choose just one to start with. And that's what Cass did, to make it easy for her team to embrace the idea and give time to it. They set a goal to get more patients with a chronic disease to get all the treatment they're entitled to.
"Choosing just one goal and an easy measure ensures all team members understand it and therefore buy in. Keep it simple!" – Cass Quilty, Medical Practice Owner
3. One measure that is easy to implement.
There are different ways to measure a goal to help patients with a chronic disease to get all the treatment they're entitled to. But to keep it easy, with data that was already available, Cass's team set up a measure of the percentage of total revenue that came from chronic disease management appointments. They called it CDM Versus Total Revenue.
Usually we prioritise relevance over feasibility, to choose the best measure. But if your team is starting out with KPIs, it might serve them better to choose a measure that is still relevant, but where the data is readily available.
4. The measure displayed visually.
XmR charts didn't come naturally to Cass right away, but she understood their power very quickly. So she and the team made the effort to use an XmR chart to display the measure they chose, CDM Versus Total Revenue. One of the things Cass immediately noticed was how quickly she could see the impact when nurses were not available.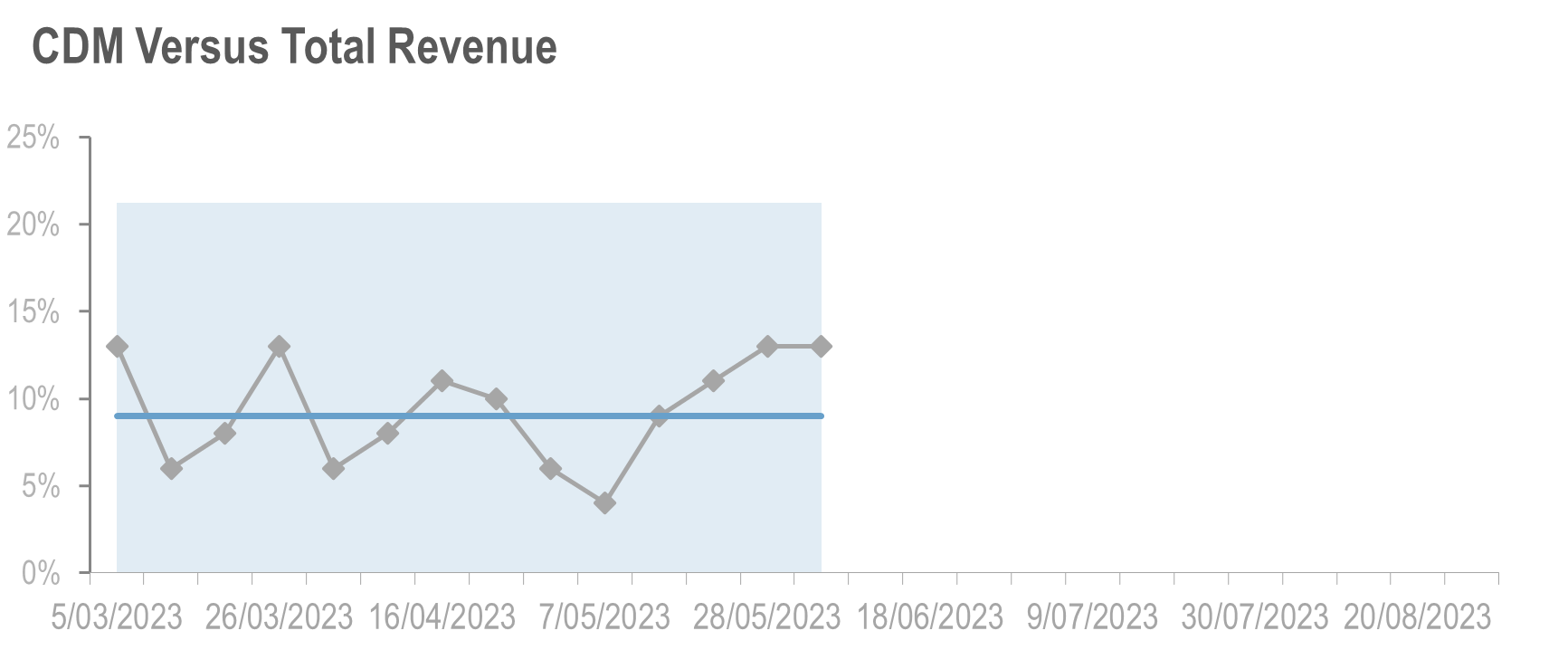 It's not too hard to learn how to build an XmR chart, and you realise the power of having a performance baseline lies in quantifying how much improvement you make when you decide on an improvement action.
5. One improvement action.
Most of the low hanging fruit (of improvement) in any team's work is simply to make the ad hoc more disciplined and routine. Cass's team went that way too, in how they proactively manage chronic disease management plans with patients. Just systematising a daily routine of checking up on who is due for an appointment made a difference: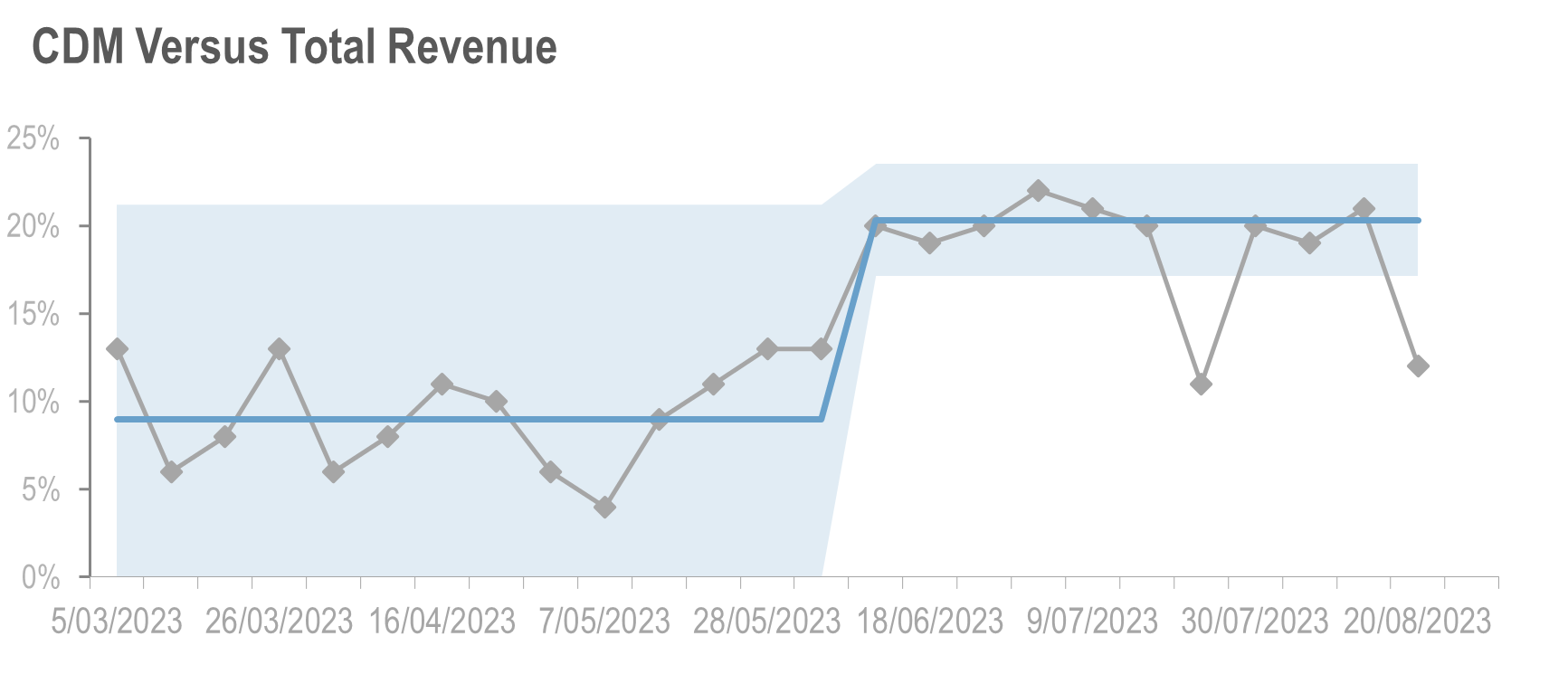 The two dips you might see in the XmR chart clearly show two weeks where nurse availability was low. That's what Cass was talking about when she said this:
"Making the measure visual makes it so much easier to see the improvement and also any anomalies." – Cass Quilty, Medical Practice Owner
And now Cass knows how to quantify the effect of nurse availability, and can therefore rationalise bringing on another nurse into the practice.
The idea is to treat performance improvement like any experiment, where we start with a clear measure and then choose just one action to try to improve that measure. This way, we learn the most about the effect of that action, and whether to lock it in, or do another round of improvement experiment.
6. A weekly cadence of communication.
Cass made communication with her team an early priority when she began applying the Measure What Matters steps. For her doctors, she involved them one-on-one. And for her nurses and admin staff, she helped them see their contribution toward practice performance through their daily roles.
As Cass continued, she set up a weekly cadence of meeting with the team. She took a role of facilitator, and helped the team to reflect more on what was working well and what wasn't working in the practice. Then they'd come up with opportunities, and decide what to do next. Cass said that everyone found this more rewarding, enjoyed getting involved, and felt more ownership too.
7. Start today.
One of the final things that Cass said to her fellow Measure What Matters program participants, was to not procrastinate. She said the one thing she'd do differently, if she could start over, was not wait so long to start. Setting up and using one measure for her practice wasn't as hard as she thought it would be. And the results came quicker, too, more than doubling the practice's CDM Versus Total Revenue within a few weeks.
Start small and simple, today.
Too often I see people making performance measurement harder than it needs to be, particularly when they're trying to do it better. And that saps energy and engagement, and momentum dies before any measure can create the impact it was meant to.
You and your team can start small, today, by following the basic approach I shared with Cass and others in the program: 12 Easy Steps to Get Started With a Lean KPI Methodology. And get a quick win that will fuel future measurement success.
Connect with Stacey
Haven't found what you're looking for? Want more information? Fill out the form below and I'll get in touch with you as soon as possible.
*We respect your email privacy.
---

Suite 117 Level 14,
167 Eagle Street,
Brisbane Qld 4000,
Australia

Stacey Barr Pty Ltd
ACN: 129953635
Director: Stacey Barr