Accelerate KPI Buy-In With A Measures Team
by Stacey Barr |
One of the things that separates organisations who race ahead with their performance measurement from those that spin their wheels is the cross-organisational Measures Team.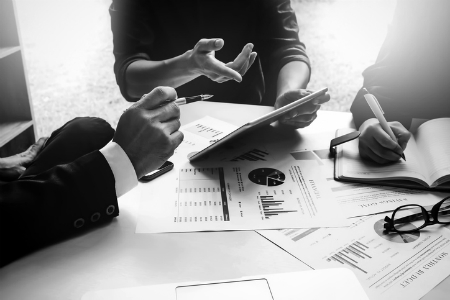 A Measures Team is a group of representatives from the various groups within your organisation, who are the leaders or facilitators or coordinators of performance measurement in their group.
The Measures Team is usually led by someone in a corporate role, such as the Chief Performance Officer or someone in the corporate strategy, planning and performance group. And their mission is unify, coordinate, support and learn how performance measurement happens across the entire organisation.
This group is essentially a mastermind. And with the power of them all working together, you can accelerate the progress your organisation makes in measuring what matters, and get that much sought after buy-in right across the organisation too.
But for a Measures Team to work well, there are a range of conditions that you ought to strive for in setting up and managing them:
1: Include volunteers only.
You want your Measures Team to be positive and enthused and engaged and not hold up progress with their cynicism and procrastination. I've worked with Measures Teams where some members were nominated by managers and because their heart wasn't in it, everyone else had to make up for it with extra work, and wider buy-in suffered greatly.
2: Make sure Measures Team members' managers support their involvement.
Talk with managers to make it clear what the commitment involves and get their promise that this time will be freed in their Measures Team representatives' schedules. You can't "bolt on" performance measurement – it has to be a priority higher than something else, which they will stop doing to make the time.
3: Meet with your Measures Team regularly.
Weekly is ideal but meet certainly no less than monthly, so you can keep the momentum and team dynamics very strong. With some of the Measures Teams I've coached, we've had two teleconferences and one live meeting each month.
4: Focus your Measures Team meetings on supporting each other.
That's the mastermind concept: sharing insights, learning from each other, solving problems together. We often spend time with a status check, followed by an open dialogue for everyone to reflect, then get to action planning to solve any problems or bring any great ideas to fruition.
5: Encourage your Measure Team members to collaborate with each other.
They will learn a lot and help to bridge those gaps between the organisational silos when they can support each other during measure workshops or meetings within their own divisions. It will accelerate their learning, their progress and build a stronger Measures Team too.
6: Have a single, organisational approach to performance measurement.
It's so important that everyone in your Measures Team is pursuing the same vision, the same way. You'll move faster and waste a LOT less time with debates about how to choose a measure or what to include in a performance report.
7: Train your Measures Team members in performance measurement.
Virtually all the Measures Teams I've worked with have started out attending my Performance Measure Blueprint Workshop, and some even continue their development through my more advanced PuMP Professional program. But the point is, don't assume they have the performance measurement knowledge they need. Experience shows this is a bad assumption to make.
8: Train your Measures Team members in group facilitation.
The people in your Measures Team will be spending most of their time helping their colleagues in their own group to develop and use better measures. They'll do this more confidently, more easily and more quickly if they know how to facilitate group dynamics and group processes. And they'll get much more buy-in that way too.
9: Celebrate your successes, including failures you've learned from.
Your Measures Team, like any other group of people in your organisation, will find their motivation wane unless they get some intrinsic value from being a part of performance measurement. So design celebration into your charter.
10: Use a plan for performance measurement implementation for your organisation.
Don't let the Measures Team plod aimlessly along, or you'll find your meetings turning into therapy sessions rather than powerful think-tanks that propel performance measurement forward. Have a big picture direction and an action plan all will follow.
11: Nurture the buy-in of your Measures Team members.
Give them ownership too of the approach to performance measurement that you're taking, the way they work together, the way they document and coordinate their performance measurement work. But that said, I know many do appreciate having a starting point so they don't have to create everything from scratch. Sometimes they just need to have say, and be heard.
TAKING ACTION:
If you don't have a Measures Team yet, give some serious thought to how you could get one started, using the tips in this article. If you do have a Measures Team, do any of these tips give you ideas to help them work better?
Connect with Stacey
Haven't found what you're looking for? Want more information? Fill out the form below and I'll get in touch with you as soon as possible.
*We respect your email privacy.
---

Suite 117 Level 14,
167 Eagle Street,
Brisbane Qld 4000,
Australia

Stacey Barr Pty Ltd
ACN: 129953635
Director: Stacey Barr