How to set meaningful KPIs and performance measures…
back to The Most Common KPI Questions…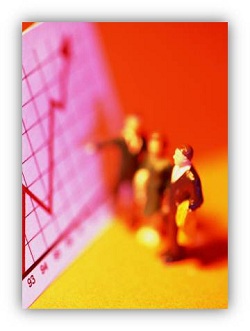 If you're serious about performance measures and KPIs as valuable tools to manage your organisation's or business' performance, but you don't have a rigourous process to develop those measures and KPIs, then there's a good chance your experiencing these things:
measures not being used because no-one sees them as relevant
no clear links between your measures and your strategy
no idea how to measure your goals, especially those intangible, qualitative goals
If this sounds like your experience, then the following resources may be of some assistance:
Are you measuring something meaningful?
If people don't share a single, sharply focused, easily imaginable vision of a result they want to create, any effort to measure that result will waste time. And if you do successfully get some measures established, it's likely they just won't stimulate the excitement and motivation needed to make the result happen. Read this article and get tips for making your results easier to measure.
You aren't brainstorming your measures, are you?
When Alex Osborn invented the creativity technique called brainstorming, I wonder if he had any idea just how extensively business would apply it. Almost every meeting employs some kind of brainstorming event, but there's one meeting that really should leave it off the agenda: the performance measure selection meeting. Read this article and get tips for how to make your measures more meaningful.
What to do with your ugly measures!
Winning awards, completing projects and initiatives on time, meeting budget, counting widgets, annual surveys, and whatever we can find at the back of the 'performance measure pantry' that was left over from last year – they are all ugly measures! If you're stuck with this sort of thing, here are some ideas for what to do about it.
Everything is Measurable
This is a paper written by Douglas Hubbard for the CIO Enterprise Magazine. Even though it is discussing measurement of IT value, it has a great tool called The Clarification Chain which will really challenge beliefs about how much actually can be measured!
Interview with author of Everything is Measurable
I interviewed Doug Hubbard how to measure anything (yes, anything!) which is the topic of his new book. You can register for free to listen and download the transcript here.
The PuMP Performance Measure Blueprint Workshop
The 2-day PuMP Performance Measure Blueprint Workshop is run several times a year, in locations around Australia and the rest of the world. It is one of the best ways to learn the step by step process of performance measurement, from deciding what results to measure, designing measures, getting buy-in, through to reporting and using measures for performance improvement. Check out the next scheduled public Performance Measure Blueprint Workshop now (this takes you to the detailed workshop webpage).
Alternatively, if you have at least 10 colleagues in your organisation who need to develop their skills to measure what matters, the Performance Measure Blueprint Workshop can be tailored as an in-house workshop just for you. Read about an in-house PuMP Performance Measure Blueprint Workshop and download a booking form.
The PuMP Performance Measure Blueprint Online Program
You can learn the step by step process of performance measurement very conveniently in our Performance Measure Blueprint Online Program, where each step is delivered to you via interactive webinars. Read more about the Performance Measure Blueprint Online Program now, to find out the next one scheduled.
Learn the language of your senses
One of the bits of advice I give to my clients when it comes to measuring things is to first write down what you want to measure, using sensory rich language. Sensory rich language makes our typically vague and inert goals or objectives far more concrete and tangible and detectable. And you can't measure something unless it is detectable!
Want more?
If you'd like more information about measuring what matters, contact me.
In the meantime, take advantage of the many tips and case studies and resources I share in my free email newsletter, Measure Up. You can sign up now in the box to the right —>
Connect with Stacey
Haven't found what you're looking for? Want more information? Fill out the form below and I'll get in touch with you as soon as possible.
*We respect your email privacy.
---

PO Box 422
Samford, Qld, 4520
Australia

Stacey Barr Pty Ltd
ACN: 129953635
Director: Stacey Barr
Free KPI Tips In Your Inbox
Sign up for our Measure Up email tips and immediately get free access to the "10 Secrets to KPI Success" online course!
We respect your email privacy.