How to Write Goals That Are Measurable
by Stacey Barr |
In PuMP we use a tool called the Measurability Tests to find out, and fix, the measurability of goals. If a goal fails the Measurability Tests, it cannot be meaningfully measured. That's rework. Wouldn't it be better if we write our goals measurably in the first place?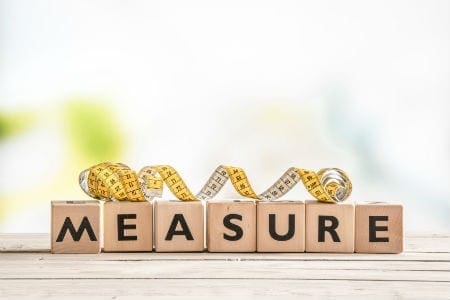 One of the guidelines I give people for writing goals that are measurable is to use words that a 5th-grader (10 year old) would understand.
It's not about dumbing-down our goals. It's about making sure they can be understood accurately. If instead they are written with management jargon, abstract concepts and weasel words, people will generally either not know what is meant or they will draw their own incorrect interpretation.
Goals are supposed to unite us and motivate us in the same direction. If we don't understand them, or have our own different understandings, we certainly are not going to move in the same direction. That means wasted time and effort.
Which organisations can truly afford wasted time and effort? Which can justify it?
So let's take the understandability and measurability of our goals much more seriously, and do the work to get them written right, from the start! Here are some options for you:
My favourite, SimpleWriter by xkcd.com
As simple as possible, but no simpler, is what SimpleWriter is. You type or copy in your text (in our case, it's our strategic and business goals) and the app will highlight words that aren't simple and clear enough. So you can write your goals from the start, with SimpleWriter coaching you. Or you can test your original goals and improve them.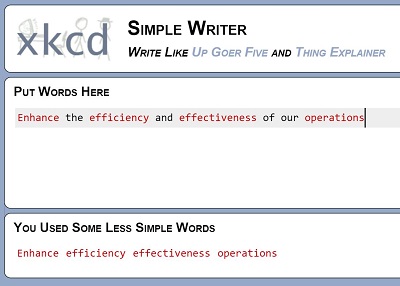 If you're a Mac user, try Morten Just's Cleartext tool.
Cleartext will highlight any word you use that isn't in the 1000 most commonly used English words. And your job then is to find a simpler and clearer way of saying what you mean by that word.
Rudolph Flesch created this formula for quantifying how easy a sentence or passage is to read. The higher the score, the easier it is to read. The highest score range is 90-100, and this correlates with what a 5th-grader would understand.

There are a range of online tools that can apply this test to your goals, some are free and some are not. I like this one by thewriter.com for it's ease and the extra tips it offers about readability: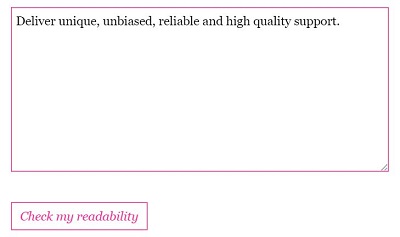 Dare you?
Yes, it will be very restrictive. Yes, you'll probably use more words than you're used to. Yes, you'll feel challenged. Yes, people won't feel comfortable having to explain what they really mean. And yes, you won't master it right away. But your goals will be more understandable and measurable.
DISCUSSION:
I dare you to put one or two of your goals through one of these tools. Then share with us the before and after, on the blog. I'm keen to collate a huge list of examples that can inspire others to make their goals more understandable and measurable, too.
Connect with Stacey
Haven't found what you're looking for? Want more information? Fill out the form below and I'll get in touch with you as soon as possible.
*We respect your email privacy.
---

Suite 117 Level 14,
167 Eagle Street,
Brisbane Qld 4000,
Australia

Stacey Barr Pty Ltd
ACN: 129953635
Director: Stacey Barr