Hard to Measure Teams – Course Overview

The 5 practical steps to get your hard to measure teams meaningful results so powerful they feel renewed excitement about their work and its true impact.
What you'll learn:
There are 5 very deliberate, very practical and very simple steps that can help any team to meaningfully measure their work. And that's what we'll cover in this 8-part online course. As a result of learning and applying these 5 steps, you will:
Get your team customer-focused and let that understanding of their raison d'etre be their guiding light toward meaningful performance measurement. You'll learn how to create "Customer Personas" that make it easier to identify the team's most important outputs.
Narrow down the team's most important outcomes using a simple tool called the "Customer Priority Quadrants" which uncovers the most important outcomes that customers (and other stakeholders) need from them.
Uncover the team's highest points of leverage using "Process Mapping", to continually improve and perform well in delivering their priority outputs and outcomes.
Clearly map the team's most measure-worthy results using a "Results Map" that logically links the work the team does to their outputs and outcomes (telling the complete story of their value to their stakeholders).
Engage the team in designing their own measures using the "Measure Design" template, to heighten their ownership and ensure the strength and feasibility of their measures.
How to take each of the 8 lessons:
To take a lesson, simply click on the link and you will go to the page where the lesson resources and videos are ready and waiting for you.
The numbers in brackets are the lengths of each lesson in minutes and seconds.
If you have questions…
As you take the program, step by step, if you have any problems at all, please contact our Program Manager, Debbie Brown, directly at info@staceybarr.com.
Enjoy the program, and the clarity and measurable focus it brings your hard-to-measure teams!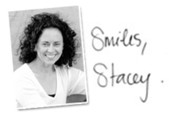 Connect with Stacey
Haven't found what you're looking for? Want more information? Fill out the form below and I'll get in touch with you as soon as possible.
*We respect your email privacy.
---

Suite 117 Level 14,
167 Eagle Street,
Brisbane Qld 4000,
Australia

Stacey Barr Pty Ltd
ACN: 129953635
Director: Stacey Barr
Free KPI Tips In Your Inbox
Sign up for our Measure Up email tips and immediately get free access to the "10 Secrets to KPI Success" online course!
We respect your email privacy.