How to Get the Truth Out of Your KPIs Using Smart Charts

Get Dramatically Faster and Bigger Performance Improvements by Discovering How to Get the Truth Out of Your KPIs Using Smart Charts.
A NEW VERSION OF THIS PROGRAM
IS COMING SOON!
We're updating this program, and will release a new version in October 2021.
Designing great KPIs isn't the only problem people have with performance measurement.
They also keep spinning their wheels, but getting nowhere fast, trying to get KPIs to improve performance or hit targets:
You work so hard EVERY month to find explanations for downward variances in your KPIs… and it never seems to end.
It's a constant EFFORT to keep performance up near the target, pushing and cajoling and burning the midnight oil to get it done.
Your managers and colleagues have INCONSISTENT opinions about whether performance is improving or not ("it's going up"… "no, that's was because of BLAH – it's really going down"… "yeah, but not compared to last year"… And on it goes).
You can't demonstrate the IMPACT of your efforts on performance, and so all you can do is report all the completed projects as evidence that things MUST be better somehow.
You're spending lots of time and money on managing performance, but have no way of working out how much the performance improvements are really costing.
There's a culprit for this kind of dysfunctional performance management behaviour (yes, it IS dysfunctional!).
And the culprit is hidden in plain sight.
You're NOT getting the truth, the whole truth and nothing but the truth, from your KPIs.
In the electricity sector, one of the common performance measures used to track the reliability of the electricity network – the system of cables and transformers and so forth that deliver the power to homes and businesses – is called SAIDI, the System Average Interruption Duration Index.
A typical way to report SAIDI was a graph with a 12-month moving or rolling average.
Moving averages are often used to smooth out the seasonal fluctuations you see in a lot of financial data. When these seasonal fluctuations are smoothed out, you are supposed to be able to see the overall trend in your data.
For the manager who needs to track a lot of performance results, this sounds heaven-sent. And that's why they are such a popular trend analysis technique.
* But popular doesn't mean appropriate! *
For one energy company, their SAIDI KPI showed a lovely, downward trend. It convinced everyone that performance was improving (in response to their great management).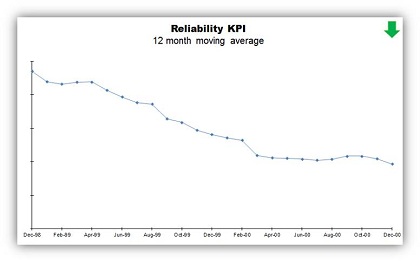 But performance WAS NOT improving. They were misled by their graph of SAIDI. The truth was that performance had not changed at all.
How could this be? How could the graph clearly show a downward trend but performance in fact be no better at all?
The culprit for dysfunctional performance management behaviour is the use of statistical methods WITHOUT appropriate statistical thinking.
One simple change to how you report your KPIs can sky-rocket your performance improvement.
And this change is using a charting method known as XmR charts, but I like to call them Smart Charts. They make our KPIs tell us the truth about performance, and they stop us from spinning our wheels and getting nowhere fast with performance improvement.
In this 5-part online self-paced course, we're going to cover, in practical detail with heaps of real-world examples, everything you need to know to get your KPIs into these simple but powerful Smart Charts before the course is even over:
The anatomy of the Smart Chart (it's actually been used by world-class companies for decades, but has flown under the performance management radar for too long).
Step-by-step instructions and demonstration of how to create the Smart Chart for virtually all your KPIs, WITHOUT special software or statistical skills.
The simple interpretation rules that make the Smart Chart the easiest chart to interpret validly, consistently and with confidence every time.
The broad range of KPI types that suit Smart Charts and how to know when it's not appropriate to use Smart Charts.
How target setting becomes a breeze and a nifty new way to put targets on your KPI graphs that uses less ink/pixels but conveys more information.
How to put Smart Charts into your performance dashboards to achieve simultaneously what the space-saving sparklines and bullet graphs currently achieve together.

We'll send an announcement to our Measure Up subscribers when the new version of this program is available. If you want to join our Measure Up community, you can sign up here.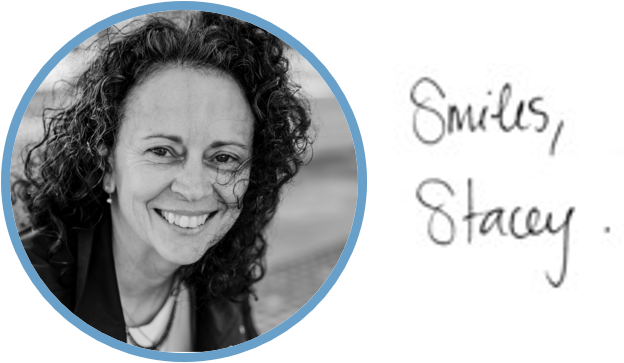 Connect with Stacey
Haven't found what you're looking for? Want more information? Fill out the form below and I'll get in touch with you as soon as possible.
*We respect your email privacy.
---

Suite 117 Level 14,
167 Eagle Street,
Brisbane Qld 4000,
Australia

Stacey Barr Pty Ltd
ACN: 129953635
Director: Stacey Barr
Free KPI Tips In Your Inbox
Sign up for our Measure Up email tips and immediately get free access to the "10 Secrets to KPI Success" online course!
We respect your email privacy.