BOOK REVIEW: Developing Meaningful Key Performance Indicators, by IntraFocus
by Stacey Barr |
[4 stars]
I read the first couple of pages of this free e-book and started to feel excited that finally a dashboard software vendor had come to understand what good performance measurement involved. The more I read, the more curious I became: so many of the ideas were almost identical to the ideas and techniques in PuMP. Then I learned that the author, Clive Keyte of Intrafocus.com, had been a follower of my blog for some time and explained it was one of the influences on his thinking.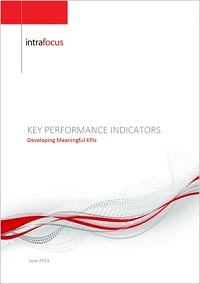 What I particularly love about what Clive is doing with this e-book is that it primes customers to really think about the performance measures and information they need, before they think about their BI or dashboard or scorecard technology. One of the bad habits I see too often is people rushing to build dashboards, assuming this will be the remedy to their information woes.
I think there is still a way to go, however, in the tools that Clive uses to demonstrate ways to visually display our measures so we can interpret them. The use of red, amber and green (RAG) threshold bands, for instance, is something that I've discovered adds more complexity and a higher risk of encouraging users to misinterpret signals and knee-jerk react to their measures. This method of using RAG and setting targets using thresholds is very common in the BI sector still. But Clive does differ somewhat, by introducing the concept of XmR charts as an improved option.
Clive Keyte shows us that even with a simple approach to thinking through performance information design, we can set ourselves up far better for making the most of technology. When we follow his advice in Developing Meaningful Key Performance Indicators, our dashboards and scorecards will be more insightful and will become the very thing they were supposed to be: a fast and accurate way to get insights from our data about the results that matter most to us.
You can download a copy of Clive Keyte's e-book here.
Connect with Stacey
Haven't found what you're looking for? Want more information? Fill out the form below and I'll get in touch with you as soon as possible.
*We respect your email privacy.
---

Suite 117 Level 14,
167 Eagle Street,
Brisbane Qld 4000,
Australia

Stacey Barr Pty Ltd
ACN: 129953635
Director: Stacey Barr