How do you get people to give time to measuring?
by Stacey Barr |
Donna works in a large public sector organisation that still has ad hoc KPIs. Her question is not surprising: "How do you get people to invest the time to develop good performance measures?"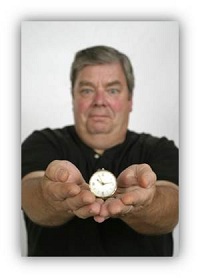 Generally speaking, people give time to things for several reasons:
those things are important to them
those things are habits
those things are what they believe they should do
I reckon this gives us clues about how we can turn performance measurement into one of those things people do give time to.
How to make performance measurement more important to people.
Performance measurement is an enabler. By measuring what matters, two time-savers result. Firstly, we do what matters so much better and spend less time on rework. Secondly, we see more clearly what doesn't matter, and then have the choice to stop giving time to it.
To highlight the time-saving power of measuring, start with a discussion about what kinds of wasted effort and rework people are doing. Get them to decide the biggest time-waster and measure it. It will start improving.
How to make performance measurement a healthy habit.
Mostly people don't really know how to measure performance in a way that saves time and is meaningful. In fact, many people have bad habits when it comes to measuring!
We need to make the steps of a proper approach to measurement clear and easy and fast with techniques and templates that work. Then it's easier for the measurement activities to become easy, satisfying, automatic habits.
How to make performance measurement a "should".
Often people say they don't have time for measuring because they don't get the support from the bosses. It isn't something they feel they "should" do. Fair enough!
Turn your attention to the bosses, and talk with them, using both the above two tips to help them appreciate the return you get when you measure something that matters.
TAKE ACTION:
Pay more attention to the conversations you have with people about performance measurement. Make sure those conversations centre around making life better for everyone. When people can see how measuring can make them feel better, they'll be open to giving time to it.
Connect with Stacey
Haven't found what you're looking for? Want more information? Fill out the form below and I'll get in touch with you as soon as possible.
*We respect your email privacy.
---

Suite 117 Level 14,
167 Eagle Street,
Brisbane Qld 4000,
Australia

Stacey Barr Pty Ltd
ACN: 129953635
Director: Stacey Barr