How Likely Are You To Succeed With KPIs?
by Stacey Barr |
I've been thinking about achievement lately, and why some people do it regularly, and others just struggle. Certainly in my own likelihood to achieve, I see a pattern. And I reckon I see a similar pattern when it comes to how likely my clients are to succeed with performance measurement.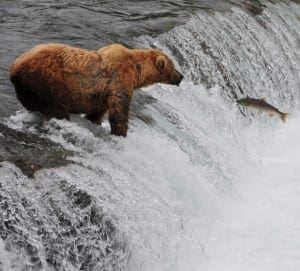 The pattern I noticed in my own achievement is made up of the trigger to achieve and the motivation to see it through. Both the trigger and the motivation can be either internal or self-driven, or they can be external.
I've been on my bike trainer a lot lately (I separated my shoulder by crashing my mountain bike again, acting like a teenage boy on a downhill run). With my bike trainer, I'm using a social gaming cycling app called Zwift. You log in, you have an avatar (you on a bike), and there are courses you can ride and workouts you can do. And there are points you earn, jerseys for fastest times over segments, and it tells you the power and speed you're doing, how far away you are from other riders (avatars too), etc…
Sports training like this – running, cycling and mountain biking – has always been great for me when the motivation is external but the trigger is internal. In other words, I set my training plan and start it each day. But while I'm training, external challenges to beat a personal best or get the mountain goat jersey keep my motivation high.
This external motivation works for me, because it's opposite to (and a good balance for) how I work in my business. In my business, both my trigger and motivation to achieve are internal.
I don't think it works for me when the trigger to achieve is external. In fact, that's how I separated my shoulder (and how I had just about every bad mountain bike crash I've had). I was riding with someone much faster, and I let that trigger me to ride faster.  Coupled with my internally driven motivation to be great on a mountain bike, I didn't let up and enjoyed the challenge. Until I overshot a jump and hit a rock and then the ground.
Renovations around the house (we have a 100-year-old Queenslander) is where I have an external trigger and external motivation. It's so, so, so hard to start it and get it done.
Are you a KPI Avoider, a Starter, a Follower, or a Leader?
If you're wondering about why you're not making much KPI progress, it could be because you're waiting for an external trigger that isn't going to happen, or you're making others responsible for your motivation.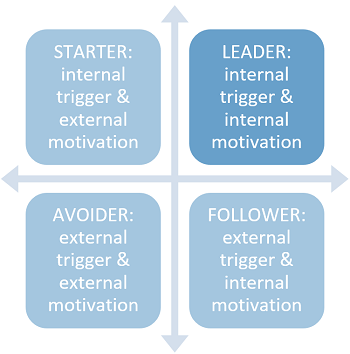 When you have the gumption to start the quest for great KPIs from your own volition, and you have the commitment to see it through to completion, then you have what it takes to be a leader of your organisation's performance culture. You might be a leader without a title (positional power), but you won't be a leader without influence.
DISCUSSION:
Where are your triggers and motivations for your measurement practice, and the achievement of having great KPIs? Internal or external? How does it work for you?
Connect with Stacey
Haven't found what you're looking for? Want more information? Fill out the form below and I'll get in touch with you as soon as possible.
*We respect your email privacy.
---

Suite 117 Level 14,
167 Eagle Street,
Brisbane Qld 4000,
Australia

Stacey Barr Pty Ltd
ACN: 129953635
Director: Stacey Barr