How to Implement KPIs 100% Virtually
by Stacey Barr |
To get rich interaction, high productivity and deep engagement in implementing KPIs virtually, carefully design your approach to collaborating online.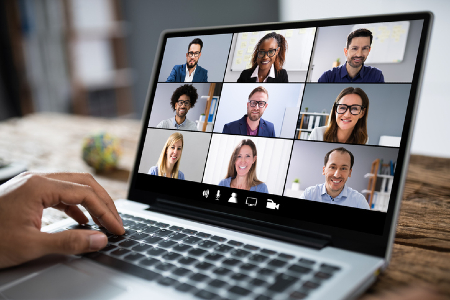 There are several reasons why working virtually can be the best option for a project implementation, like a PuMP Pilot or full PuMP implementation with a team:
The geographical spread of your team makes in-person meetings impractical.
Team members are busy and can only spare short bursts of time.
You have tight timeframes and need to move fast and not waste any time.
Team members work from home, or are part-time, and not often in the office.
Team members are too shy or intimidated to participate in person.
Crises, like COVID-19, restrict the ability to travel or work in groups.
Or perhaps you're curious to see if working virtually turns out to be more productive, focused and manageable than traditional meetings and workshops. Good for you!
In any case, here is a framework of tips to help you plan, organise and facilitate a successful KPI implementation, that is 100% virtual:
How? Follow a methodology and trust it. This will help everyone focus on content, and not waste time working out the process.
Who? Form your Measures Team. You need a mix of the right skills and know-how, not just whomever is available.
What? Choose the right online tools. Use what everyone is most comfortable with and has the basics you need.
Where? Well, it doesn't really matter. Virtual collaboration can happen anywhere there is internet, but the setting matters.
When? Shorter and more frequent sessions. Focusing online is a whole different drain on people's energy.
What else? Get the most out of PuMP. If your chosen methodology is PuMP, the templates are a great advantage, and yes you can still run a Measure Gallery .
For the full set of tips, you can download this how-to kit "How to Implement PuMP Virtually". It dives into implementing PuMP – or any good KPI methodology – through 100% online interaction that is more collaborative, productive, and engaging than in-person meetings:

With the right performance measure methodology and simple online collaboration design, you can design great KPIs 100% virtually. 
Connect with Stacey
Haven't found what you're looking for? Want more information? Fill out the form below and I'll get in touch with you as soon as possible.
*We respect your email privacy.
---

Suite 117 Level 14,
167 Eagle Street,
Brisbane Qld 4000,
Australia

Stacey Barr Pty Ltd
ACN: 129953635
Director: Stacey Barr