How to Make the Case For KPIs
by Stacey Barr |
Managers and Executives don't usually invest in performance measurement, they invest in the benefits that good performance measurement will bring them, so long as those benefits are relevant to what's on their radar right now. And that's the role of a good KPI business case: to show how better performance measurement can make it easier and faster to achieve their priorities.
Here are the ingredients of a good KPI business case: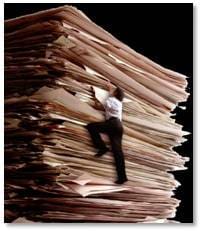 Part 1. Executive Summary
Write a short summary of your business case to invest time and energy into a robust and deliberate approach to developing meaningful performance measures or KPIs, emphasising the reasons why it's so important now, what the realistic return on investment is and the recommended actions you want the audience to take in response to the business case.
Part 2. Reason for this business case
List your own reasons (and supporting evidence) for wanting to invest in a robust and deliberate approach to developing meaningful performance measures or KPIs. Consider your vision of performance measurement excellence, deficiencies in the current approach to performance measurement, and any specific performance problems that good measurement can solve for your organisation.
Part 3. Objectives and measures of success
You need to be clear how better performance measurement will impact your organisation's or company's performance. It won't be enough for you to assume that ending up with good measures is an outcome that others will value. They won't. They need to see the link between good measures and the bottom line impacts that matter to them. And paradoxically, it will help if you can articulate some measures of the success of having good organisational performance measures!
Part 4. Needs analysis
Provide a more detailed rationale behind your reasons for wanting to invest in a robust and deliberate approach to developing meaningful performance measures or KPIs. Consider stakeholder feedback, market forces, governance, continual failure to achieve business targets, and so on.

Part 5. Assumptions and constraints
Identify the most critical assumptions and constraints associated with taking a robust and deliberate approach to developing meaningful performance measures or KPIs. They are likely to include workload constraints, involvement of other key people in a Measures Team, whether existing measures can be challenged, and so on.
Part 6. Change management
Change management, in providing the training and systems to embed new performance measurement practices into the organization so it becomes "business as usual", should be an integral part of the approach you take. List the ideas you have for ensuring that the new approach can be integrated into the processes and systems of your organisation, and become normal practices for people.
Part 7. Cost benefit analysis
List the various costs and benefits, and their financial impacts, associated with developing and implementing better performance measures. Costs will likely include training, consultants, staff time, new systems or system development. Benefits will likely include reduced rework, real improvements in performance (achieving more targets, more quickly) and savings from streamlining current data collection and reporting. Show the total estimated return on investment in successfully achieving the objectives of your business case.
Part 8. Due diligence
Gather and provide information that evaluates your recommended approach to better performance measurement against alternative approaches. Alternative approaches might include competing methodologies, solutions other than performance measurement, and even doing nothing is an alternative approach. Also include a risk assessment, outlining the significant risks associated with your business case, and how you recommend handling each of them. One big risk, for example, is people not giving the priority to their involvement in performance measurement.
Part 9. Recommended implementation and timing
Provide a moderately detailed description of your recommended course of action, the key milestones and timeframes. The key phases of any performance measurement implementation should include ensuring there is a measurable strategy, designing meaningful measures, getting buy-in, defining and implementing the measures, designing and implementing performance reports, ensuring measures are used to improve performance, and integrating new measurement practices into normal management processes.
TAKE ACTION:
Download my free KPI Business Case Template [//www.staceybarr.com/downloads/KPIBusinessCase.doc] and work through it, tailoring it to suit your purposes and preparing your argument for the return on investment that good performance measurement can bring.
Connect with Stacey
Haven't found what you're looking for? Want more information? Fill out the form below and I'll get in touch with you as soon as possible.
*We respect your email privacy.
---

Suite 117 Level 14,
167 Eagle Street,
Brisbane Qld 4000,
Australia

Stacey Barr Pty Ltd
ACN: 129953635
Director: Stacey Barr