Inspiring People to Make KPI Progress
by Stacey Barr |
Recently, one of my Performance Measure Blueprint attendees, Greg, sent me an email with the subject line "I thought you might get a laugh out of this – My first Measures Newsletter".
I opened it, read it and then hit "reply":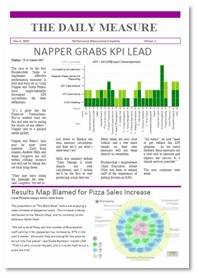 "YOU ARE A COMPLETE NUT GREG!!!! This is fantastic. I was splitting my sides reading it. Is it for real? Are you honestly starting a newsletter for your colleagues? What a tremendous way to get (and keep) people engaged!"
Greg and his colleagues had gotten busy when they left after our Sydney 2010 Performance Measure Blueprint Workshop. They wasted not a moment in setting in motion their KPI development project, and just a few weeks later, Greg's email arrived with the first edition of his measures newsletter, "The Daily Measure".
The first section called "Napper Grabs KPI Lead" features a bar graph that shows each division's progress along the steps of the Performance Measure Blueprint implementation process. Apparently Napper's division was winning at that point!
The second section called "Results Map Blamed for Pizza Sales Increase" featured a picture of Greg's organisation's Results Map (like a strategy map, it highlights the performance results aligned to strategy, showing in one picture all the things worth measuring).
The discerning features of the Results Map are: each result in a circle of its own, results arranged in a hierarchy from strategic to operational levels, results linked to show important cause-effect relationships, and the circular layout to make the links easier to follow. The article was suggesting a link between increased pizza sales and the existence of this new Results Map. You just have to read it, it's hilarious (the link is at the bottom of this article).
The point of sharing this with you is to point out that you don't have to try too hard to create some fun around performance measurement. And that fun can truly feed the progress. Greg's done it with a bit of casual competition with his KPI Progress Graph, and with humour in his pizza article. What are YOUR fun ideas for inspiring people to make progress with their KPIs?
TAKE ACTION:
Download a copy of Greg's "The Daily Measure" newsletter [//www.staceybarr.com/downloads/TheDailyMeasure.pdf] for inspiration for how you can keep your KPI projects on track and have a little fun with it too.
Connect with Stacey
Haven't found what you're looking for? Want more information? Fill out the form below and I'll get in touch with you as soon as possible.
*We respect your email privacy.
---

Suite 117 Level 14,
167 Eagle Street,
Brisbane Qld 4000,
Australia

Stacey Barr Pty Ltd
ACN: 129953635
Director: Stacey Barr