Milestones Do Not Make Meaningful Performance Measures
by Stacey Barr |
Milestones are commonly used as KPIs or performance measures. But they are not performance measures because they fail a few essential tests of what makes a meaningful performance measure.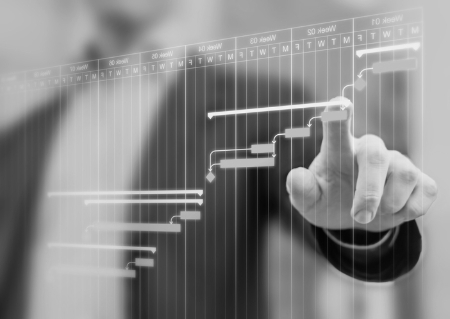 Milestones like "Complete business process review by June 2010" and "Implement customer relationship management system by December 2009" and "New workplace safety policy in place" are NOT performance measures, despite how often they appear as such in business and strategic plans and despite what many performance measure practitioners and experts might say.
1. Milestones are about action, but measures are about results.
Meaningful performance measures track business results, because achievement of business results is what defines performance. Completing a task or activity, such as reaching a milestone, doesn't define performance. Just think of all the examples in your own business or organisation where projects or initiatives or actions have actually worsened performance! That's why milestones aren't meaningful measures.
2. Milestones are hypotheses, not proof.
A milestone is a point in time when a particular project has reached an important stage that indicates it's progressing as planned. Projects, and their milestones, are our best guesses (hopefully informed guesses) about what's going to improve business performance. Not all projects succeed in this quest, and that's because we don't know what's going to work until we try it out and learn from it. Milestones need measures to test if they're working or not. That's why milestones can't themselves be meaningful measures.
3. Milestones are too little, too late.
You reach a milestone or you don't. It's that simple. If you use milestones as measures, then you're really saying if we don't meet it, we've failed. But that's too trivial, and it also drives the wrong behaviour (people fiddling with the project schedule or scope, rather than making sure the project is making the improvements in business performance it was designed to). With continuous feedback that meaningful measures can give us over time, we can easily adjust our projects and activities as and when we learn what works and what doesn't. That's why milestones aren't meaningful measures.
Are you convinced that milestones aren't measures?
Where ever you have milestones in place of measures, you very likely need to go back to your intended results. What improvement are you trying to achieve? What difference are you trying to make? Why does reaching this milestone matter? Then focus on finding measures to track those results, through time, as feedback on how well your projects (and their milestones) are working in bringing those results into reality.
TAKING ACTION:
Look over your own business or strategic plan and check if you're using milestones where measures need to be. If you are, a great way to find a meaningful measure is to ask "What result do we want from successfully reaching this milestone?" And then develop a measure for that result.
Connect with Stacey
Haven't found what you're looking for? Want more information? Fill out the form below and I'll get in touch with you as soon as possible.
*We respect your email privacy.
---

Suite 117 Level 14,
167 Eagle Street,
Brisbane Qld 4000,
Australia

Stacey Barr Pty Ltd
ACN: 129953635
Director: Stacey Barr