Podcast Episode #20 – Are You Measuring to Thrive or Survive?
by Stacey Barr |
IN THIS EPISODE:
Article: KPIs Should Make You Feel Uncomfortable!
Q&A: How to measure for continuous improvement?
Quick Tip: Set 3 targets for each KPI.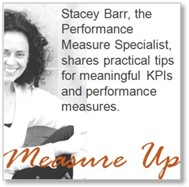 Download the mp3, or listen here:
Connect with Stacey
Haven't found what you're looking for? Want more information? Fill out the form below and I'll get in touch with you as soon as possible.
*We respect your email privacy.
---

Suite 117 Level 14,
167 Eagle Street,
Brisbane Qld 4000,
Australia

Stacey Barr Pty Ltd
ACN: 129953635
Director: Stacey Barr