Podcast Episode #33 – PuMPing KPIs for the Balanced Scorecard
May 15, 2012 by Stacey Barr
IN THIS EPISODE:
A Case Study interview with Jerry Stigall, a Strategy Professional who led Douglas County to win the Balanced Scorecard Award for Excellence.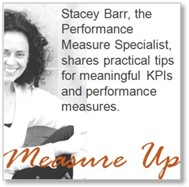 Subscribe at iTunes or listen here:




by

Connect with Stacey
Haven't found what you're looking for? Want more information? Fill out the form below and I'll get in touch with you as soon as possible.
*We respect your email privacy.
---

PO Box 422
Samford, Qld, 4520
Australia

Stacey Barr Pty Ltd
ACN: 129953635
Director: Stacey Barr