Podcast Episode #5 – KPI Relevance Versus Feasibility
by Stacey Barr |
IN THIS EPISODE:
Article: 5 KPIs for Christmas?
Q&A: How to handle KPI's that you believe are great but you're not sure you'll be able to measure efficiently.
Quick Tip: What to do BEFORE you decide something isn't cost-effective to measure.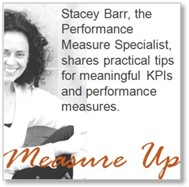 Download the mp3, or listen here:
Connect with Stacey
Haven't found what you're looking for? Want more information? Fill out the form below and I'll get in touch with you as soon as possible.
*We respect your email privacy.
---

Suite 117 Level 14,
167 Eagle Street,
Brisbane Qld 4000,
Australia

Stacey Barr Pty Ltd
ACN: 129953635
Director: Stacey Barr