The Big Gaping Hole in Business Intelligence
by Stacey Barr |
Business Intelligence vendors are all about Big Data, Analytics and agile BI. They have all the answers for how to manage, analyse and report data faster and fancier, to enhance performance management. But are they really performance management experts?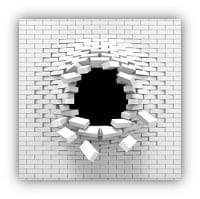 Most of the BI companies I've worked with have no idea how to develop meaningful performance measures. Often they don't even know they should.
They fill dashboards with a showcase of analyses of whatever data they can extract from their clients' systems.
Their marketing strongly suggests they know best when it comes to analysing and reporting performance data. Take for example a recent piece by Information Management about Why KPIs are Dead. They give three reasons.
The first reason that KPIs are apparently dead is that the pace of business is changing so fast that chosen KPIs don't stay relevant for long. Doesn't that just mean that we need to get faster at defining and implementing the information we need to keep up with the pace? A "set it and forget it" scorecard IS NOT what performance measurement is about.
The second reason that KPIs are apparently dead is that it's not enough to keep adding new KPIs to scorecards every time business needs change. But the types of information they say we should be looking at are not KPIs (performance measures); it's context and cause analysis to explain performance results. This is a different type of information to performance measures. We have always needed both, and always will.
The third reason is that there is so much data available now (dare I say it… "Big Data") that KPIs just won't ever get the benefits from it all. But who ever said that KPIs should be the only type of analysis you do with your data?
Granted, Information Management did wrap up the article by saying that in fact, no, KPIs are not completely dead; we just need to make sure we don't limit ourselves to a static set of "tick and flick" performance measures. So their headline really is a marketing ploy.
But in general, BI vendors are definitely getting carried away with claims that the data and analysis landscape is dramatically changing and that we should be using their tools to keep up with the change.
The only things that have really changed are the amount and types of data we have available and the tools we have to make use of that data. Our business questions are no different:
How well are we achieving the results that matter most right now?
What is causing us to not be any better than we are?
What should we do about it?
The challenge is that we get too carried away with the speed of data access and anaylsis promised by self-service BI, agile BI, Big Data and the like. The big gaping hole in BI is that we continue to keep our measure design and information design skills in the dark ages.
We'll just have more and more overwhelming and inactionable dashboards of dials and gauges and sparklines and bullet graphs and pie charts and line graphs and stacked bar charts and spider charts and heat maps and so on <deep breath> to distract us from the few things that matter most.
TAKE ACTION: Don't let your quest for improved decision-making, faster business improvement, and better information be led by the BI industry. It must be led by strong information design. Then, and only then, will you get the most out of your BI investments, your analytics and your big data.
Connect with Stacey
Haven't found what you're looking for? Want more information? Fill out the form below and I'll get in touch with you as soon as possible.
*We respect your email privacy.
---

Suite 117 Level 14,
167 Eagle Street,
Brisbane Qld 4000,
Australia

Stacey Barr Pty Ltd
ACN: 129953635
Director: Stacey Barr