The Nijntje Principle for Measurable Goals
by Stacey Barr |
Nijntje, or Miffy as she is known in English-speaking countries, is the little rabbit character who is drawn with only a few simple lines and primary colours. Yet she's meaningfully recognisable as a little rabbit. She doesn't need any more detail to be meaningful. But any less detail and she looks incomplete. Goals that are meaningfully measurable are just like Nijntje.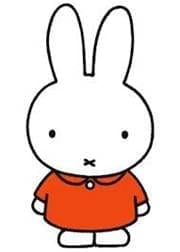 Edward Tufte's data-ink ratio is the Nijntje principle applied to data visualisations, demonstrated beautifully by Stephen Few over at perceptualedge.com.
Of course, we don't create goals with lines or data, but rather with words. The most meaningfully measurable goals are written with the fewest words possible, that convey the clearest meaning. Maximise your meaning-word ratio.
Here are two tactics to maximise the meaning-word ratio of your goals.
Tactic 1: Replace weasel words with more precise and sensory-descriptive words.
Weasel words give goals the quality of abstract drawings, like Black and Violet by Wassily Kandinsky.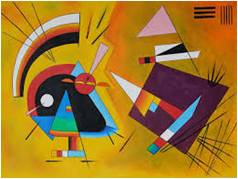 The problem with weasely and abstract goals is that their meaning is wide open to interpretation. That means there is no focus, no alignment, and almost certainly no forward progress in a unified direction. Goals are supposed to give us focus on priorities, alignment of effort, and progress toward our desired future state.
Use the Nijntje Principle and replace the weasel words with language a 10-year old can understand.
Tactic 2: Make each goal about a single performance result.
Too many words give goals the quality of ultra-detailed drawings, like Where's Wally by Martin Handford.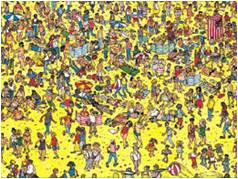 It takes a long time to find Wally in these drawings. And it takes a long time to find the essential meaning in complex goals (and for some, they never do). Too many words in a goal are a symptom that the goal is really several goals blended together.
Use the Nijntje Principle and tease out complex goals, separate each individual performance result. You might even find they don't all matter.
Making a goal simple isn't making it dumb.
Nijntje might be a children's character, but the Nijntje Principle is anything but childish. If we are serious about achieving our goals, we have to look at the overwhelming evidence that weasel words and complexity really do confuse people and make goals immeasurable. And we have to do what's needed to change that.
DISCUSSION:
Practice applying the Nijntje Principle to one of your goals, and share it on the blog so we can collaborate!
Connect with Stacey
Haven't found what you're looking for? Want more information? Fill out the form below and I'll get in touch with you as soon as possible.
*We respect your email privacy.
---

Suite 117 Level 14,
167 Eagle Street,
Brisbane Qld 4000,
Australia

Stacey Barr Pty Ltd
ACN: 129953635
Director: Stacey Barr