TOOL: The PuMP® Diagnostic Discussion
by Stacey Barr |
Following the performance measurement framework of PuMP®, this diagnostic tool will facilitate a discussion about how performance measurement currently stands in your organisation, and will broaden people's awareness of what good performance measurement is really all about.
It contains clear instructions for how to facilitate the discussion, a rating scale to assess your current performance measurement system, and suggestions for actions to take based on your assessment.
And now, thanks to one of my clients, Moira Lugg who generously shared a spreadsheet she created to capture and analyse her team's PuMP® diagnostic data, the download includes the PuMP® Diagnostic Tool analysis spreadsheet.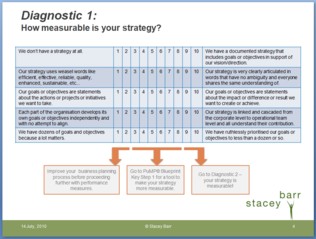 Connect with Stacey
Haven't found what you're looking for? Want more information? Fill out the form below and I'll get in touch with you as soon as possible.
*We respect your email privacy.
---

Suite 117 Level 14,
167 Eagle Street,
Brisbane Qld 4000,
Australia

Stacey Barr Pty Ltd
ACN: 129953635
Director: Stacey Barr