TEMPLATE: The PuMP® KPI Business Case
by Stacey Barr |
This tool is simply a Microsoft Word document that guides you through the creation of a business case for a performance measurement project, either based on the PuMP methodology or not.
Performance measurement initiatives can often go astray due to the competing demands of other initiatives that are seen as more exciting, or urgent. For some reason, many people think that measuring what matters is something that can always wait! But what could be more important than focusing on what truly matters, and how can you do that without measuring?
I hope this business case template helps you to get your performance measurement initiative taken more seriously, and resourced appropriately, so you can quickly get some wins on the board and demonstrate the real bottom-line value of measuring the right things!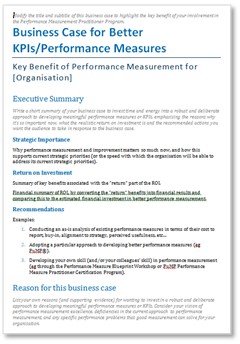 Connect with Stacey
Haven't found what you're looking for? Want more information? Fill out the form below and I'll get in touch with you as soon as possible.
*We respect your email privacy.
---

Suite 117 Level 14,
167 Eagle Street,
Brisbane Qld 4000,
Australia

Stacey Barr Pty Ltd
ACN: 129953635
Director: Stacey Barr