Before You Rush to Build Your New KPI Dashboard
by Stacey Barr |
Is your new KPI dashboard one of the 85% that fail? Not if you follow this advice, to properly prepare for building your new KPI performance dashboard.
Performance dashboards for business have been around for more than two decades. My first experience of a performance dashboard was in a utilities corporation. They had invested $2,000,000 with a software company to build the Executive Team a strategic KPI dashboard. Two weeks after it went live, no one was using it.
Twenty years later, I still see decision-makers make the same mistakes. Even with much superior software
available now for building dashboards, the finished product still misses the mark.
Why do so many KPI dashboards fail?
One of the obvious reasons that a new KPI dashboard gets ignored is that next-to-useless KPIs are the only information available. Choosing the right KPIs is one prerequisite, therefore, for a successful dashboard.
But another reason is a bit less obvious. It's the mindset of the decision-makers that want the KPI dashboard. They need performance information, and they need it yesterday. This urgency mindset rushes them to get a dashboard built as soon as possible. The problem with this urgency mindset is that it expects a quick fix is possible.
There is no quick fix to build a KPI dashboard!
I've worked solely with performance measurement over my 27-year career. From the thousands of customers I've taught and worked with, from the thousands of examples of how they develop KPIs that don't work, and all the research and testing I've done over this time, I've come to an immovable conclusion:
There is no quick fix for developing the right KPIs, and therefore most definitely no quick fix for building a KPI dashboard. Software cannot do the thinking that the decision-maker must do.
And to do the thinking that the decision-maker must do, they need skills. And I don't mean the skills to design pretty data visualisations.
Developing the right KPIs is a skill.
Thinking up the right KPIs is not general knowledge, and it's not taught in business school either. Good KPIs don't come into the world by happy accident. They need deliberate design that requires clarity of thought, logical dialogue, and a commitment to know the truth.
It's this mindset, plus more, that my colleagues Nick Desbarats and Louise Watson dive into, in this short but insightful video "Why a dashboard on its own won't improve performance":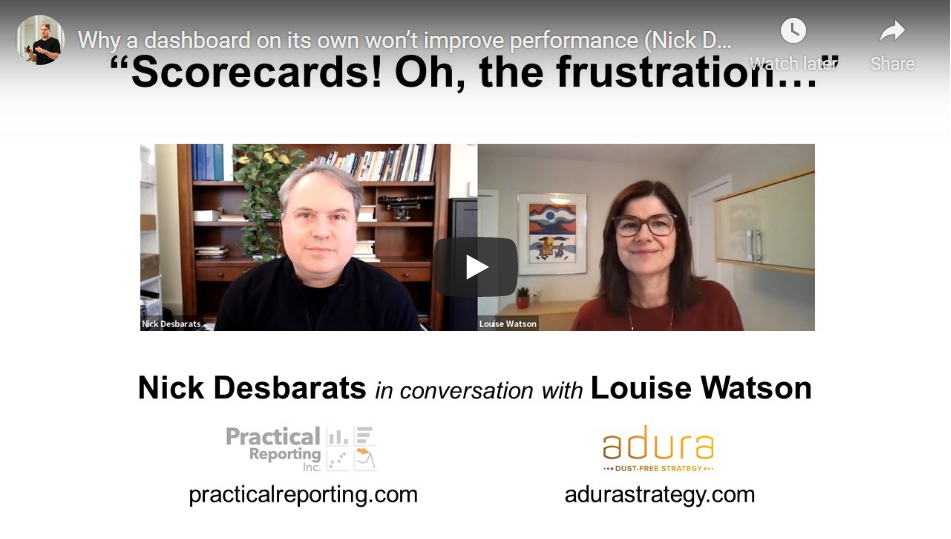 For a successful KPI dashboard, decision-makers need a change in mindset about the thinking required BEFORE the building of the dashboard. [tweet this]
Connect with Stacey
Haven't found what you're looking for? Want more information? Fill out the form below and I'll get in touch with you as soon as possible.
*We respect your email privacy.
---

Suite 117 Level 14,
167 Eagle Street,
Brisbane Qld 4000,
Australia

Stacey Barr Pty Ltd
ACN: 129953635
Director: Stacey Barr