Podcast Episode #28 – Ugly Measures
by Stacey Barr |
IN THIS EPISODE:
Upcoming Events: Free Webinar – Where are you on the Performance Measurement Maturity Ladder?, 2012 Performance Measure Blueprint Workshops in Australia, 2012 Performance Measure Blueprint Online Program starting February
Practical Tip: Good, Bad and Downright Ugly Performance Measures
How-to Resources: Get the 4 How-to Kits…Before the prices go up in February 2012 UPDATE: These How-to Kits are no longer available. We recommend taking the PuMP Blueprint Online Program.
Your Questions: Fernando asks about problems with metrics for Public Relations…
Getting More: Don't Waste Time With Trivial Measures, Three Ways to Toss Those Time-Wasting Measures, Milestones Do Not Make Meaningful Performance Measures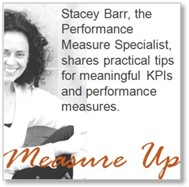 Download the mp3, or listen here:
Connect with Stacey
Haven't found what you're looking for? Want more information? Fill out the form below and I'll get in touch with you as soon as possible.
*We respect your email privacy.
---

Suite 117 Level 14,
167 Eagle Street,
Brisbane Qld 4000,
Australia

Stacey Barr Pty Ltd
ACN: 129953635
Director: Stacey Barr