What is a KPI Owner Accountable For?
by Stacey Barr |
Performance measures and accountability have an uncomfortable relationship. People don't like to own measures or KPIs because of the fear of what they'll be held accountable for. And yet can performance ever be expected to improve if no-one is accountable?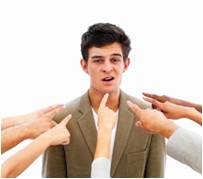 Traditionally, a measure's owner is held accountable for whether or not performance hits target. If the company profit doesn't meet target, the Board holds the CEO accountable. If the percentage of customer problems that are solved in the first call is too low, the Customer Service Manager is held accountable. If the percentage of held desk calls that are answered within three rings is too low, the Help Desk operator is held accountable.
We know from experience the kind of behaviour this type of accountability drives. The CEO will cut costs across the board, inspiring everyone to work smarter. The Customer Service Manager will change the definition of "solved" to get a better first-call resolution rate. The Held Desk operator will rush through the call she's on to answer more within three rings. And what happens in all cases is the measure will improve in the short term.
But there are consequences. Other measures will be sabotaged. Cutting costs means corners are cut and quality goes down. Changing the definition of 'solved' means problems come back into the pipeline again and cause bottlenecks. Rushing customers to end calls sooner makes them frustrated and dissatisfied.
Accountability isn't the problem. It's what we hold people accountable for, when it comes to performance measures. Holding people accountable for hitting targets assumes people have full control over results. But the results are actually the product of business processes and systems, and people have to work within the constraints of these processes. W. Edwards Deming had much to say about this, pointing to the overwhelming observation that most of the constraints on performance are in the processes, not the people.
Accountability can be framed in a more constructive way, a way that drives the right behaviour. And this way has three parts to it:
#1 Hold people accountable for monitoring the important results
When someone is responsible for a specific business result, like problem resolution or accuracy of advice or eliminating rework, they can be accountable for routinely monitoring that result with a performance measure. This drives the behaviour of people focusing on the results that matter.
#2 Hold people accountable for interpreting their measures
When someone is responsible for monitoring a performance measure, they can be accountable for interpreting what that measure is telling them about the business result it measures. This drives the behaviour of people seeking feedback about how the results are actually tracking.
#3 Hold people accountable for initiating action when action is required
When someone is responsible for interpreting a performance measure, they can be accountable for deciding what kind of action is needed, if at all. This drives the behaviour of people working on their processes, and not just in them.
DISCUSSION:
What does accountability mean in your organisation or company? How do people feel about it? Could the 3 accountability points proposed above work for you?








Connect with Stacey
Haven't found what you're looking for? Want more information? Fill out the form below and I'll get in touch with you as soon as possible.

Level 54, 111 Eagle Street
Brisbane, Qld, 4000
Australia

Stacey Barr Pty Ltd
ACN: 129953635
Director: Stacey Barr