Why Gauges and Dials Don't Work for KPIs, Take Two
by Stacey Barr |
Measure Up reader, Rick, opened up this debate again on my first post about whether gauges and dials can work for KPIs with this claim: "When it comes to KPI's that are not time related gauges still can give fast insights to performance." And a few other readers agreed. But I still don't.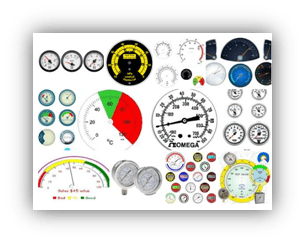 What KPI isn't time related? Well, a few examples given by more Measure Up readers suggest:
"You can measure your current percentage and compare it with a target, which is not time-related."
"In our line of business we also offer solutions for Trading Companies, which are highly interested in their (long-term) risk position. They want to know if it's good any given moment in time, and not compared to previous or upcoming periods."
"There is a difference between snap shot performance indicators and those that show trends and they are to be used for two completely different things. When driving, I want to quickly see how much gasoline I have left, and only want to see the trends when analyzing the performance of my car."
"A good dial, representing the degree of timely progress on the objective stated in a given month (period) gives a shocking first visual input…"
Even Bernard Marr's story about how jet fighter performance makes use of gauges for real-time immediate decision making seems to support these views.
But is immediate decision making the same as performance measurement?
I want to focus on this assumption that there is such a thing as a KPI or performance measure that is not time-related or where historic information is not relevant.
When you want to make an immediate decision about something as operational as whether or not you need to put fuel in your car, take advantage of stock market fluctuations, or keep your fighter jet in the air, you are working IN your process.
You're doing the work itself. And often, immediate information is necessary for you to do the work well. But that information is not performance measurement.
Performance measurement is about working ON your process. It's about taking a broader view to understand your process's capability and how far that capability is from your targets. You can't do that with snapshot information.
You can't do it, because to get a measure of process capability, you need to understand the pattern of variability in performance over time. You also need to understand a measure's pattern of variability before you can know how far from target it truly is.
Knowing what a particular statistic or measure is at a single point in time does not tell you this. In fact, those who rely on point-in-time snapshots as indicators of performance end up tampering with their process and making performance worse.
And on whether gauges and dials are suitable for displaying anything, let alone performance measures, you really should be taking Stephen Few's advice. He's given more time and focus and intellect to understand these things than anyone else I know of.
TAKE ACTION:
What are your thoughts about whether there is any such thing as a snapshot KPI or performance measure, where variability and change over time don't matter?
Connect with Stacey
Haven't found what you're looking for? Want more information? Fill out the form below and I'll get in touch with you as soon as possible.
*We respect your email privacy.
---

Suite 117 Level 14,
167 Eagle Street,
Brisbane Qld 4000,
Australia

Stacey Barr Pty Ltd
ACN: 129953635
Director: Stacey Barr