It Doesn't Matter Where You Start to Improve Your KPIs
by Stacey Barr |
To make useful progress with KPIs, we have to get over our obsession with getting it right, doing it perfectly and waiting for all all the planets line up before we get started. We'd be waiting for ever. And one way to get over these types of procrastination is simply to start where the energy is.
Performance measurement processes like PuMP are linear. They are a sequence of deliberate steps that choose, create and use performance measures that are more meaningful and engaging.
And this linear arrangement of steps in the process can fool us into thinking that we have to start at step 1. We don't.
PuMP, for example, has eight steps: understanding measurement's purpose, mapping measurable results, designing meaningful measures, building buy-in to measures, implementing measure, reporting performance measures, interpreting signals from measures, and reaching performance targets.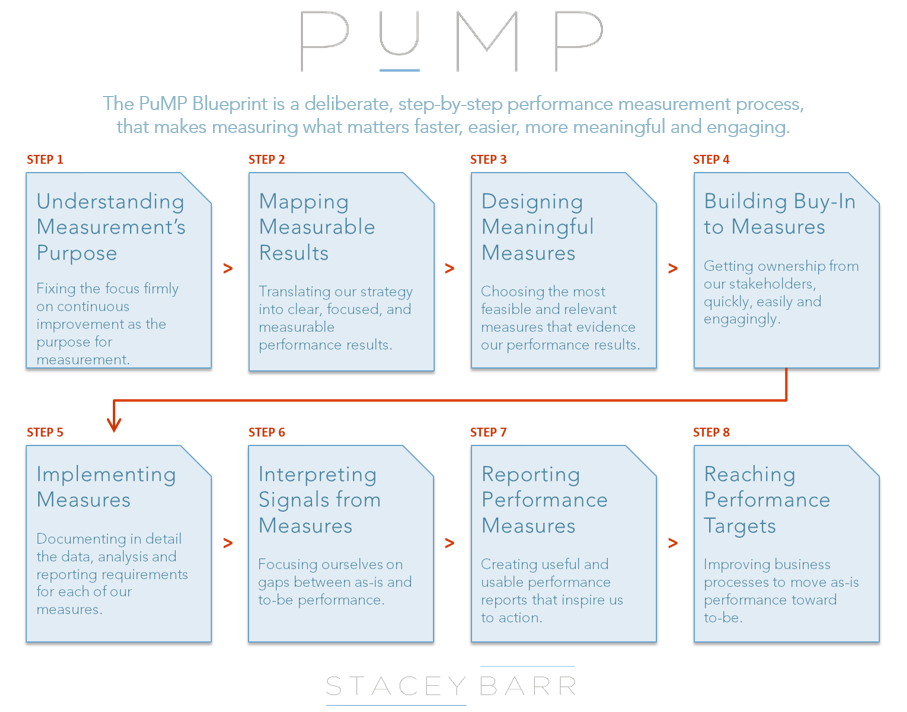 It's quite a logical flow. But you don't have to start at step 1. Here are some examples, from Measure Up readers:
Awie can start at Step 2…
Awie's challenge is how to make sure that they are measuring the correct KPIs in order to steer the company in the right direction. Often a cause of this challenge is that measures were not designed to align to strategy in the first place.
Rather than going back to the drawing board and designing new measures from scratch, it's quicker to test the alignment of the existing KPIs to the most important goals for the company. In PuMP, there is a list of criteria each measure must meet, that is achieved by the Measure Design technique. But it works just fine to test an existing set of KPIs, including killing off the zombies.
Peyton can start at Step 4…
Peyton's challenge is finding the best way to begin the development of an effective dashboard of KPIs. Many dashboards are designed that never get used, because too much focus is on the pretty dashboard and not on the information.
A great way to kickstart a dashboard project is to start with a quick, open and engaging review of the existing measures, to find out which KPIs are considered most useful. In PuMP, we have a technique called the Measure Gallery, and it's a great way to display a little information about all the potential measures for people to give feedback on or vote on.
Clive can start at Step 8…
Clive's challenge is how to measure performance without his colleagues feeling that they are being put under the microscope. This challenge is caused by measures being used to judge rather than to learn.
This can be fixed by instead using the measure to improve a business process as a collaborative team initiative. In PuMP, this is the Reaching Performance Targets technique, and it's all about using measures to trigger and test process improvements, with a continuous improvement philosophy.
Where should you start?
Take a closer look at the steps of the performance measurement process, and see which one resonates most with your most pressing KPI challenge right now. Then head over to the Measure Up blog and do a keyword search relating to that step, to find a practical tip to try out.
DISCUSSION:
What's the performance management challenge that your organisation is obsessed with right now? What's one good practice you could introduce, that will directly alleviate it?
Connect with Stacey
Haven't found what you're looking for? Want more information? Fill out the form below and I'll get in touch with you as soon as possible.
*We respect your email privacy.
---

Suite 117 Level 14,
167 Eagle Street,
Brisbane Qld 4000,
Australia

Stacey Barr Pty Ltd
ACN: 129953635
Director: Stacey Barr