The Journey to a High-Performance Culture Works on 'Congo Time'
by Stacey Barr |
We all want a high-performance culture in our organisations. We want people to be results-oriented, to act with a scientific curiosity, to be relentlessly solution-focused, and to have a continuous-improvement mindset. And we want it now.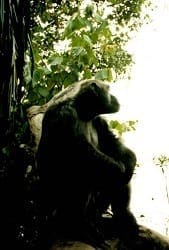 A central bank in Africa has a great approach to changing the culture of their organisation. The corporate strategy team wants to create a results-oriented performance culture, a shift away from a culture of action-orientation and maintaining the status quo. And this current culture is embedded in parts of the leadership team, so change isn't going to happen from the top.
In late 1998 I went to Congo to visit with a volunteer project that rehabilitates orphaned chimpanzees into social groups, and then releases them back into the wild. One of the more interesting things I recall about the trip, aside from the cheeky juvenile chimps, was how long it took to get things done. Food would be delivered to the project whenever someone got around to it. We would meet with people whenever they turned up. We'd get a lift back to town whenever the truck would pass by. Maybe today, maybe tomorrow. We called it 'Congo Time'.
The great thing about 'Congo Time' is that you can't rush. There are no quick fixes. It happens in its own good time. And that mindset is what works so well for the African bank. They are doing things now to change the culture, which they don't expect to reap the full benefits of for another five years. And that's why it works. They're giving themselves space to get it right.
The corporate strategy team is nurturing a critical mass of performance measurement champions across the bank. They keep these champions involved in designing and measuring strategy and give them high quality training. They have chosen the best people, the brightest and most enthusiastic and self-directed. They have chosen people from which the future leaders of the bank will rise.
Culture change, even when it is led from the top, is slow. It works on 'Congo Time'. So be patient and take advantage of time you have to influence it.
Connect with Stacey
Haven't found what you're looking for? Want more information? Fill out the form below and I'll get in touch with you as soon as possible.
*We respect your email privacy.
---

Suite 117 Level 14,
167 Eagle Street,
Brisbane Qld 4000,
Australia

Stacey Barr Pty Ltd
ACN: 129953635
Director: Stacey Barr